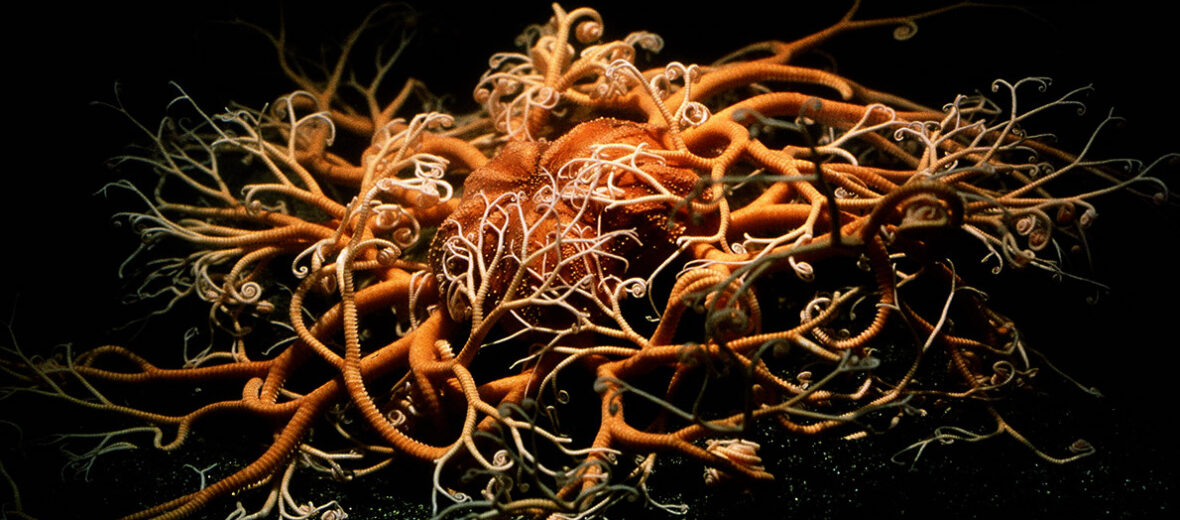 Being a member of the brittle star taxon, the basket star is certainly 1 of the strangest looking of all the sea stars. They also go by the name "Shetland Argus". These fascinating critters can typically be found in the deeper parts of most of the world's oceans. However, they have been spotted in shallow water of up to 45 feet deep.
First the Stats…
Scientific name: Euryalina
Weight: Up to 11 lbs.
Diameter: Up to a 5.5 inch disk, with an arm diameter of up to 27.5 inches
Lifespan: Up to 35 years
Now on to the Facts!
1.) These sea stars have the ability to curl into tight balls when threatened.
2.) Basket stars prefer a rocky sea floor with plenty of strong current.
3.) It may be hard to differentiate, but these creatures have 5 arms that radiate from a central disk.
4.) They feed by extending their arms. They then catch passing shellfish and jellyfish in their barbed arms, encase them in mucus, and draw them down into the star's mouth.
5.) There are approximately 2,100 known species of basket stars.
But wait, there's more on the basket star!
6.) If attacked by a Predator, they have the ability to break off 1 or more of their arms to leave for the attacker, while escaping. Only to grow said arm(s) back at a later date.
7.) The fossil records of these critters date back to the Carboniferous era.
Did you know…?
Basket stars lack blood and instead achieve gas exchange via their water vascular system. That's right. They have a type of sea water instead of classic blood.
8.) Some species reproduce sexually and others via asexual means.
Now a Short Basket Star Video!
Also, check out the Critter Science YouTube channel. Videos added frequently!
Want to suggest a critter for me to write about? Let me know here.
Learn more about all kinds of cool critters, right here!