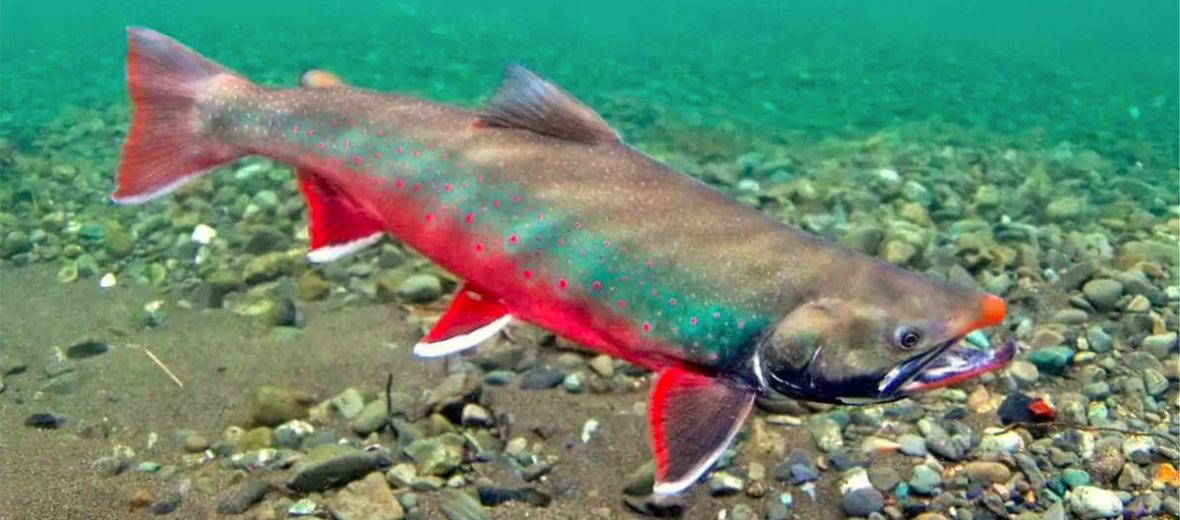 The Arctic char, aka Arctic charr, can be found in alpine lakes, as well as in Arctic and Subarctic coastal waters. These fish can be anadromous (spend part of their lives in the ocean and part in freshwater) and move from freshwater habitats to the local saltwater bodies and back again. Then back again to spawn in freshwater. They are closely related to trout and salmon. They can be found in the Circumpolar North, in North America, Greenland, Iceland, Northern Europe, and northern Asia. These fish are listed as Least Concern by the IUCN.
First the Stats…
Scientific name: Salvelinus alpinus
Weight: Up to 3 lbs.
Length: Up to 20 inches
Lifespan: Up to 20 years
Now on to the Facts!
1.) There is no other known species of freshwater fish that is found at a higher latitude.
2.) In 1758, these fish were initially scientifically described in the salmon genus Salmo, as Salmo alpinus, by Carl Linnaeus.
3.) However, in 1836, John Richardson separated them into Salvelinus.
4.) Their genus name Salvelinus hails from the German "Saibling," which means little salmon.
5.) The English name, char, is thought to have derived from Old Irish ceara/cera meaning "blood red," which is in reference to its red belly.
But wait, there's more on the Arctic char!
6.) The Arctic char is also found in Lake Pingualuit in the Ungava Peninsula, in Quebec. This lake was formed roughly 1.4 million years ago, from an impact crater. This species is the only known fish to exist in this lake and cannibalization has been documented to occur.
7.) As mentioned, these fish have been noted as being anadromous, but there are populations that are completely landlocked, or semi-anadromous.
Did you know…?
Based on the season, these chars will feed on insects, salmon eggs, crustaceans, and smaller fish. Other times of the year they will feed on shrimp, smaller fish, and zooplankton.
8.) Anadromous Arctic chars tend to spend their younger years in fresh water, and once mature, they annually migrate to a marine environment; returning to freshwater to spawn.
9.) This fresh to saltwater migration takes place between 4 – 12 years of age.
10.) Their primary predators are polar bears, sea otters, larger fish species, and humans.
But wait, there's still more on the Arctic char!
11.) During spawning season, males take on a reddish coloration and develop a hooked lower jaw. Where the females remain a silver color.
12.) Females lay upwards of 5,000 eggs, each spawning season.
13.) Unlike salmon, chars don't die after spawning.
14.) Hatching time can be up to 5 months.
15.) Numerous commercial char fisheries exist throughout the Canadian arctic. These help the subsistence economy of many circumpolar people.
But wait, there's still a little more on the Arctic char!
16.) Arctic char are also farmed in Estonia, Finland, Iceland, Ireland, Norway, Sweden, and West Virginia.
17.) Commercial Arctic char can weigh upwards of 5.5 lbs.
18.) These fish are said to taste kind of like a cross between salmon and trout.
Now a Short Arctic Char Video!
Be sure to share & comment below! Also, check out the Critter Science YouTube channel. Videos added regularly!
Want to suggest a critter for me to write about? Let me know here.