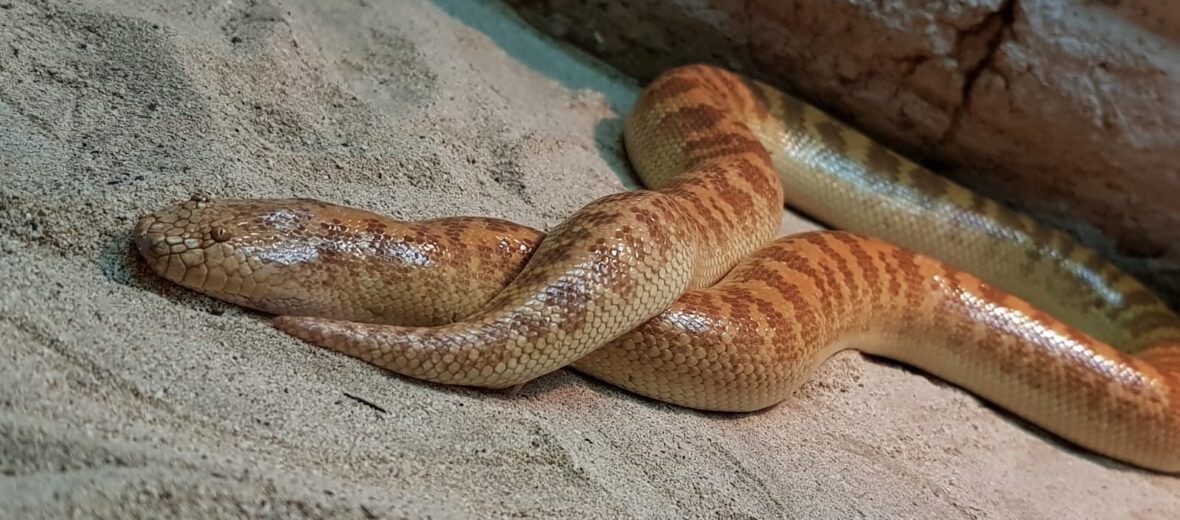 Spending most of it's days buried in the sand in the Arabian Peninsula and Iran, the Arabian sand boa is among the smallest boa constrictors. They are also known as Arabian boas or Jayakar's sand boas. The scientific name and the common name of Jayakar's sand boa, are in honor of Atmaran S. G. Jayakar, an Indian naturalist & surgeon. Due to their wide distribution and stable numbers, they are listed as Least Concern by the IUCN.
First the Stats…
Scientific name: Eryx jayakari
Weight: Up to 3.5 ounces
Length: Up to 15 inches
Lifespan: Up to 15 years
Now on to the Facts!
1.) Females are sexually dimorphic to males as they are notably larger.
2.) These boas, like most others, are solitary; only coming together to mate.
3.) A group of boas is called a nest, den, bed, pit, or knot.
4.) Arabian sand boas are nocturnal (active at night), spending the hot says buried in the soft sand or soil, till the cover of darkness.
5.) They are ambush predators that lay in wait, partially buried in the ground, with just their eyes present. When passing prey happens by, they fling their head sideways and snag their prey. They then constrict their prey and eat it head first, when it's dead.
But wait, there's more on the Arabian sand boa!
6.) Sand boas, like all boas, are not venomous.
7.) These diminutive snakes prey on worm lizards and geckos. In captivity, they will also take pinky and fuzzy mice.
Did you know…?
Incubation temperatures of 79°F yield females, where temperatures of 85°F – 87°F produce both males and females.
8.) Unlike most other boas, females lay a clutch of up to 7 eggs that hatch in approximately 66 days.
9.) There are only 3 other known species of boas that lay egg clutches.
10.) Baby snakes are called snakelets. How cute is that?
11.) Sand boas are preyed on by larger snakes and birds of prey.
Now a Short Arabian Sand Boa Video!
Also, check out the Critter Science YouTube channel. Videos added frequently!
Want to suggest a critter for me to write about? Let me know here.
Learn more about all kinds of cool critters, right here!