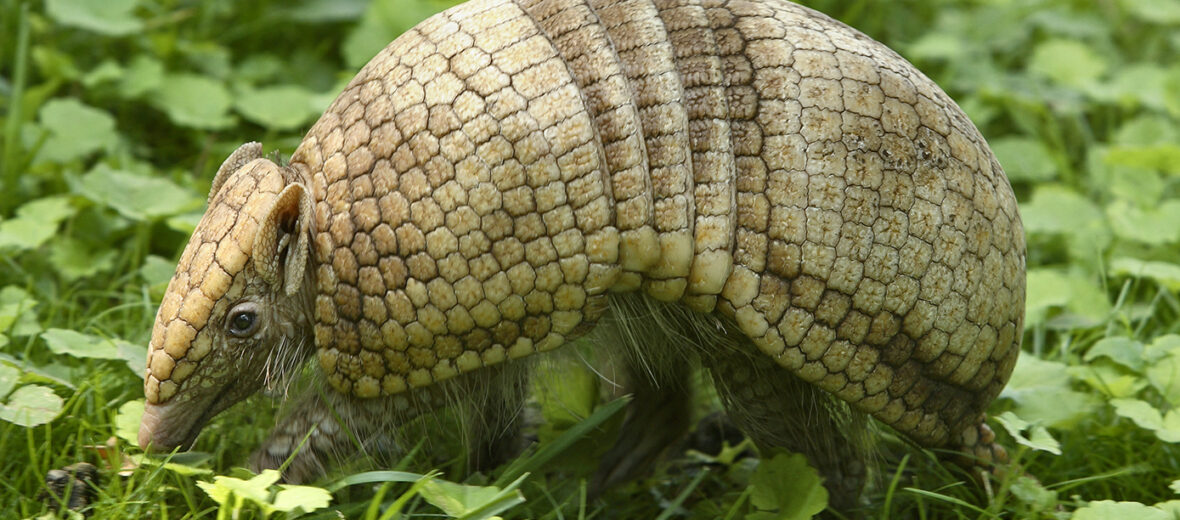 The 3-banded armadillo is the only known species of armadillo that has the ability to roll itself into a complete ball, for protection. They can be found in Argentina, Bolivia, Brazil, and Paraguay. These critters prefer open forests, open, grassy areas, and marshes. Due to hunting, trapping, and habitat loss at the hands of agriculture, these little critters are listed as Vulnerable by the IUCN.
First the Stats…
Scientific name: Tolypeutes tricinctus
Weight: Up to 3 lbs.
Length: Up to 12 inches, plus a 2.5 inch tail
Lifespan: Up to 20 years
Now on to the Facts!
1.) Their outer shell is made of keratin. That's the same stuff our fingernails and hair are made of.
2.) 3-banded armadillos are typically solitary, but will congregate in small groups if the weather gets cold.
3.) While not burrowers themselves, they will inhabit abandoned anteater burrows.
4.) A group of armadillos is called a fez.
5.) They dig into insect mounds to get at their favorite food: insects, like ants and termites.
But wait, there's more on the 3-banded armadillo!
6.) A male is called a lister, a female is called a zed, and a baby is called a pup.
7.) Females birth a single pup that is completely independent by 72 days.
Did you know…?
Armadillos have been known to harbor Mycobacterium leprae. The bacteria that causes leprosy. More than half of the studied armadillos in South America have been shown to carry leprosy. This is most common though from the 9-banded armadillo.
8.) Breeding takes place between October – January.
9.) Pumas and jaguars prey on these armadillos.
10.) They can also hold their breath for up to 6 minutes.
Now a Short 3-Banded Armadillo
 Video!
Be sure to share & comment below! Also, check out the Critter Science YouTube channel. Videos added frequently!
Want to suggest a critter for me to write about? Let me know here.
Learn more about all kinds of cool critters, right here!