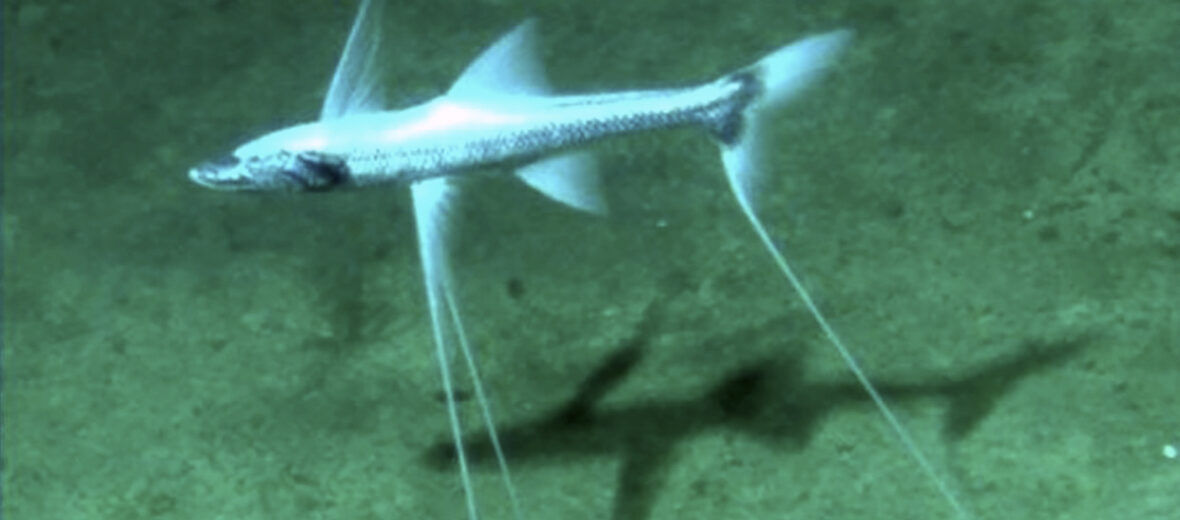 The tripodfish, aka tripod spiderfish, can be found in the Atlantic, Indian, and Pacific Oceans. They are a deep-sea benthic (occurring at the bottom of the ocean floor) fish that is seen in the abyssal zone – up to 15,400 feet deep. Due to their presumed stable, global numbers these fish are listed as Least Concern by the IUCN. They aren't commercially fished for either. This is due to the depth at which they reside.
First the Stats…
Scientific name: Bathypterois grallator
Weight: Up to 2+ lbs.
Length: Up to 14 inches
Lifespan: Unknown
Now on to the Facts!
1.) These peculiar fish are also known as stilt walkers, due to their elongated pectoral and caudal fins.
2.) Their unusual fins can reach upwards of 3.3 feet.
3.) Due to the total lack of light in the abyssal zone, their eyes have de-evolved to be almost completely gone.
4.) Their name literally means deep, feathery one who walks on stilts.
5.) The diet of a tripodfish consists of shrimp, small crustaceans, fish, and zooplankton.
But wait, there's more on the tripodfish!
6.) Tripodfish are solitary.
7.) These fish capture prey by pointing opposite of the water's current and patiently waiting for food to happen by.
Did you know…?
Since it is tough to find a mate, these fish have evolved into being hermaphrodites (possess both male and female reproductive organs). They are, in a pinch, able to reproduce without a partner.
8.) They also utilize mechanosensory (locating prey via pressure or vibration changes in the water) means of finding prey.
9.) It has been suggested that they pump water into their 3 elongated fins in order to make them more rigid.
10.) There are around 18 known species of Bathypterois, to date.
Now a Short Tripodfish Video!
Be sure to share & comment below! Also, check out the Critter Science YouTube channel. Videos added frequently!
Want to suggest a critter for me to write about? Let me know here.
Learn more about all kinds of cool critters, right here!