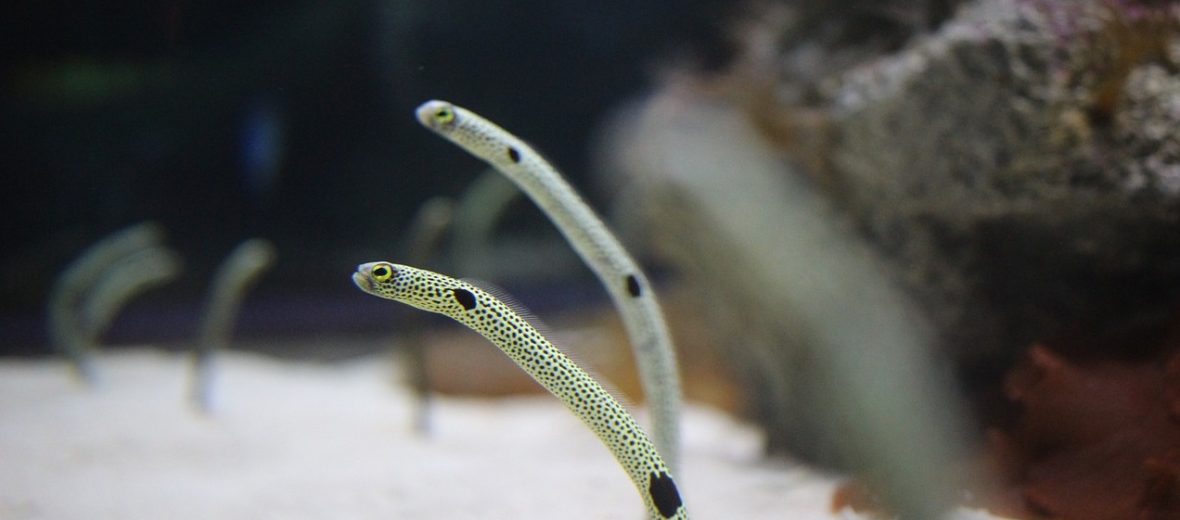 The spotted garden eel dwells in shallower water, up to 150 feet deep. They can be found off the coasts of northwestern Australia, the Indo-Pacific, the Red Sea, and East Africa. These critters prefer sandy ocean bottoms, near coral reefs. Due to their stable populations, these creatures are listed as Least Concern by the IUCN. This article is on special request from my friend, Eleanor.
First the Stats…
Scientific name: Heteroconger hassi
Weight: Up to 8 ounces
Length: Up to 1.3 feet
Lifespan: Up to 40 years
Now on to the Facts!
1.) They live in burrows that they construct in the sand, with their pointed tail. They push the sand out of the burrow with their dorsal fin. Mucus is used to line burrow in order to keep it from collapsing.
2.) These eels are actually ray-finned fishes.
3.) When feeding, they can expose up to 2/3 of their body.
4.) Spotted garden eels feed on zoo plankton.
5.) When threatened, they will quickly retreat into their burrows.
But wait, there's more on the spotted garden eel!
6.) They rely on sea grass to aid in camouflage.
7.) During mating, the prospective mate will stretch over the burrow and entwine with the other eel.
Did you know…?
Juveniles are totally black, but lighten and develop spots, as they age.
8.) These fish are pelagic spawners. This means the female releases fertilized eggs into the water and they float until they hatch. When mature enough, the juvenile eels make their way to the sea bed to start their own burrows.
9.) These critters are sexually dimorphic in that males are much larger than females and their bottom jaw protrudes.
10.) Triggerfish and Pacific snake eels prey on spotted garden eels.
Now a Short Spotted Garden Eel Video!
Be sure to share & comment below! Also, check out the Critter Science YouTube channel. Videos added regularly!
Want to suggest a critter for me to write about? Let me know here.
Think you know a lot about critters? Try your hand at these fun, free quizzes: