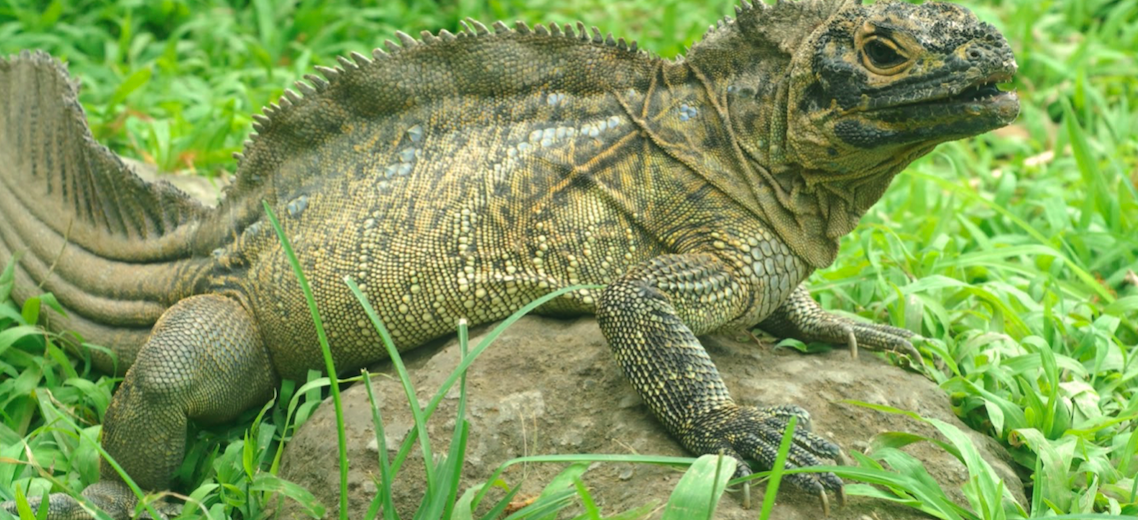 The Philippine sailfin lizard, aka sailfin water lizard, crested lizard, soa-soa lizard, ibid, and sailfin dragon, is a native of the Philippine Islands, southern New Guinea, and Eastern Indonesia. They prefer silty lowland river habitats located in tropical forests. Even though it is a protected species in its native country of the Philippines it is still a highly captured species for exotic pet collectors and thus sought after in the international pet trade. Sadly, due to hunting, trapping, over-collection for the pet trade, habitat destruction, and pollution, these cool lizards are listed as Vulnerable by the IUCN. Their populations are also decreasing.
First the Stats…
Scientific name: Hydrosaurus pustulatus
Weight: Up to 5 lbs.
Length: Up to 4 feet, including tail
Lifespan: Up to 20 years
Now on to the Facts!
1.) They get their primary common name from the large crest of skin that stretches from their lower back to their tail.
2.) Their crest aids in thermoregulation (temperature control) and acts as a sort of aerodynamic propeller while in water.
3.) Much like the basilisk, the scale fringes on its flattened toes act like pontoons, and allow these lizards to run on top of water on its hind legs, for short distances. They lose this water surface running capability as they age.
4.) Salfins prey on fish, frogs, and insects. Fruits and vegetables make up the rest of their diet; making them an omnivore (eats plant and animal matter).
5.) Snakes, birds, and large fish all prey on these lizards.
But wait, there's more on the Philippine sailfin lizard!
6.) They are often found basking on branches just above the water. This allows them an easy and quick escape if danger rears its head.
7.) Males have large sailfins on their back and long tail. Females have a dorsal fringe near the back and upper surface.
Did you know…?
The Philippine sailfin lizard can hold its breath underwater for up to 15 minutes.
8.) Just like iguanas, these lizards possess a parietal or pineal eye (3rd eye – used for detecting light and dark), on top of their head, between their primary eyes.
9.) Females breed once a year but can produce multiple clutches of up to 8 eggs each season.
10.) Juveniles are born precocial (totally self-sufficient). There is no natal care provided by the adults.
But wait, there's still more on the Philippine sailfin lizard!
11.) Even though they are kept as pets. It is ill advised to get them from the wild. Only ever buy reptiles from reputable captive breeders. This helps to ensure the wild population isn't as affected.
12.) With lots of patience, these sailfin lizards have been trained to feed from a person's hand. But it is best to leave them in the wild, where they belong.
Now a Short Philippine Sailfin Lizard Video!
Be sure to share & comment below! Also, check out the Critter Science YouTube channel. Videos added frequently!
Want to suggest a critter for me to write about? Let me know here.
Learn more about all kinds of cool critters, right here!