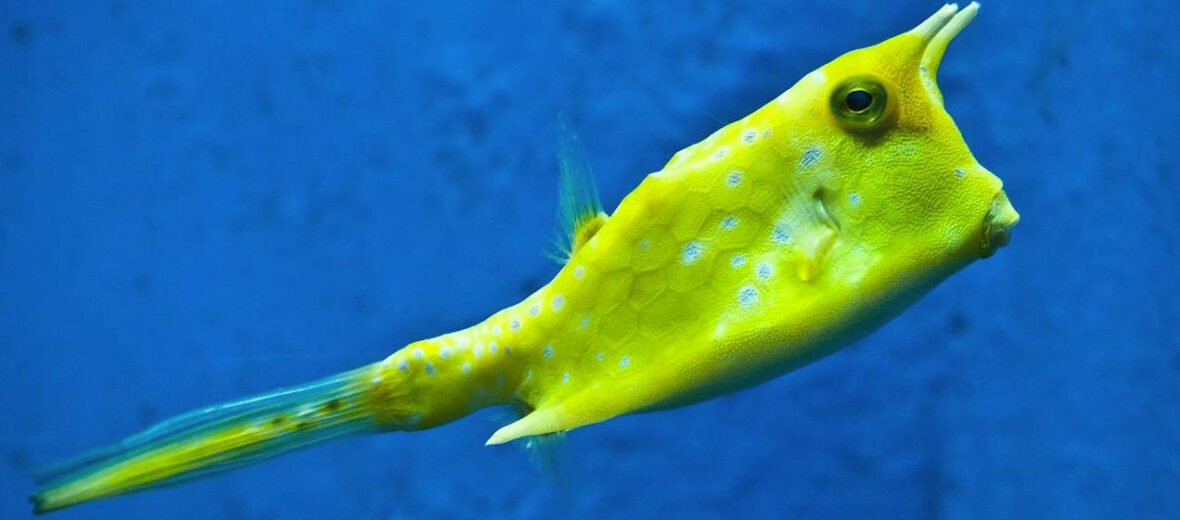 The longhorn cowfish, aka longhorn boxfish, hails from the Indo-Pacific Ocean. They prefer reef habitats, reef flats, protected seaward reefs, bays, and estuaries. These odd critters can be found at depths of up to 160 feet. These and other species of cowfish are listed as Least Concern by the IUCN. But they are still at risk due to pollution, over-collection for the pet trade, and habitat destruction.
First the Stats…
Scientific name: Lactoria cornuta
Weight: Up to 5.5 ounces
Length: Up to 20 inches
Lifespan: Up to 8 years
Now on to the Facts!
1.) Due to their teeth constantly growing, they need to wear them down by chewing on hard substances, like corals and snail shells.
2.) They feed on various microorganisms, benthic algae, foraminiferans, sponges, polychaete worms, mollusks, small crustaceans, and occasionally small fishes.
3.) If their horns are damaged, they will grow back in a few month's time.
4.) Adults don't seem to have many, if any at all, predators. But their eggs are predated by egg-eating fish.
5.) These fish gather into harems of up to 4 females.
But wait, there's more on the longhorn cowfish!
6.) Spawning season lasts from February – October.
7.) Each female will lay up to 2 eggs that are fertilized by the male.
Did you know…?
If stressed or threatened, these fish can secrete a potent pahutoxin (neurotoxin) that can kill all fish in the surrounding area.
8.) Exotic fishkeepers often have a difficult time keeping these fish alive, as they are delicate in captivity. They have specific feeding requirements and don't often thrive in personal aquariums.
9.) These fish are also dangerous to keep with others as, if they feel threatened, they can poison every inhabitant in the aquarium.
10.) Cowfish swim differently than other fish. They swim via a method called ostraciform swimming. This entails using both their walls and dorsal fins to almost hover through the water, like an aquatic UFO.
Now a Short Longhorn Cowfish Video!
Be sure to share & comment below! Also, check out the Critter Science YouTube channel. Videos added frequently!
Want to suggest a critter for me to write about? Let me know here.
Learn more about all kinds of cool critters, right here!