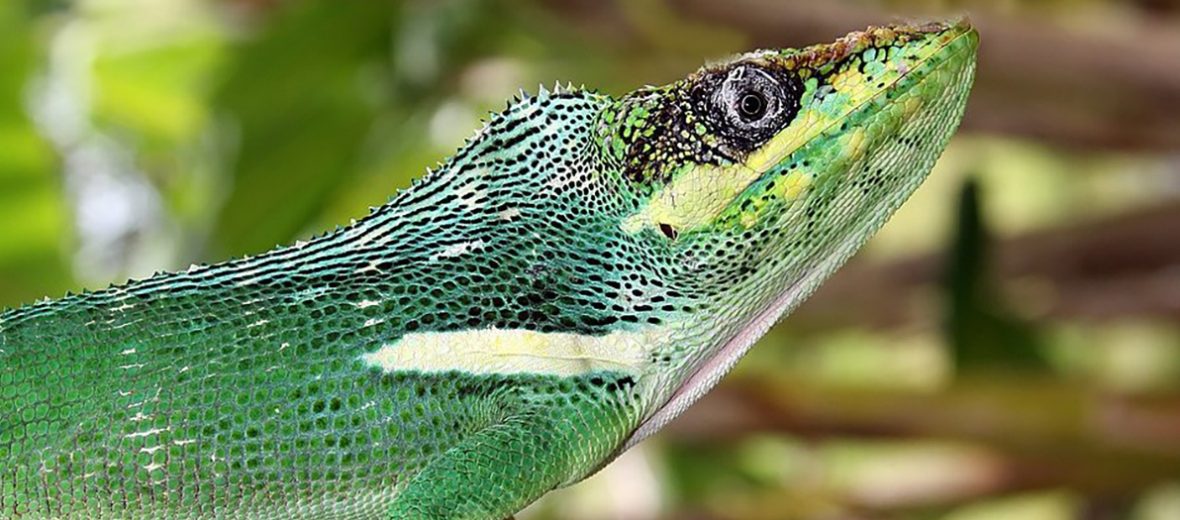 The knight anole, aka Chipojo, chupacocote, Cuban knight anole, or Cuban giant anole, hails from, of all places, Cuba. But they have also been introduced to Florida. These are the largest known species of anole. These lizards can tolerate a wide range of habitats, like mangroves, forests, savannas, gardens, and cultivated areas. Even though they face the threats of habitat destruction at the hands of residential and commercial development as well as agriculture and aquaculture, they are still listed as Least Concern by the IUCN.
First the Stats…
Scientific name: Anolis equestris
Weight: Up to 4.83 ounces
Length: Up to 20 inches, including their tail
Lifespan: Up to 8 years
Now on to the Facts!
1.) A group of lizards is called a lounge.
2.) While not as diverse as chameleons, these lizards are able to change their coloration. They can change from green, to brown, to black. They also possess a pink dewlap.
3.) While generally solitary, these critters can sometimes be seen in lounges when it gets cold.
4.) Knight anoles are arboreal (spend their lives in trees).
5.) The knight anole is very territorial and will ferociously defend its territory from other anoles.
But wait, there's more on the knight anole!
6.) They are diurnal (active during the day).
7.) When threatened, they will face their threat, head on, and elevate themselves on all 4 limbs, gape, extend their dewlap, inflate themselves with air, and bob their head; similar to a bearded dragon.
Did you know…?
If a knight anole loses it's tail, it will grow a new 1 in it's place. This is called caudal autonomy.
8.) While their diet mainly consists of various insects and snails, they will also occasionally eat fruit, small birds and other reptiles. They will even cannibalize each other.
9.) These lizards are polygynandrous (promiscuous – males and females have multiple partners).
10.) Females are oviparous (lay eggs) and will lay up to 15+ eggs each season.
Now a Short Knight Anole Video!
Pick up your Critter Science books today, at Amazon!
Be sure to share & comment below! Also, check out the Critter Science YouTube channel. Videos added regularly!
Want to suggest a critter for me to write about? Let me know here.
Photo credit: cuatrok77