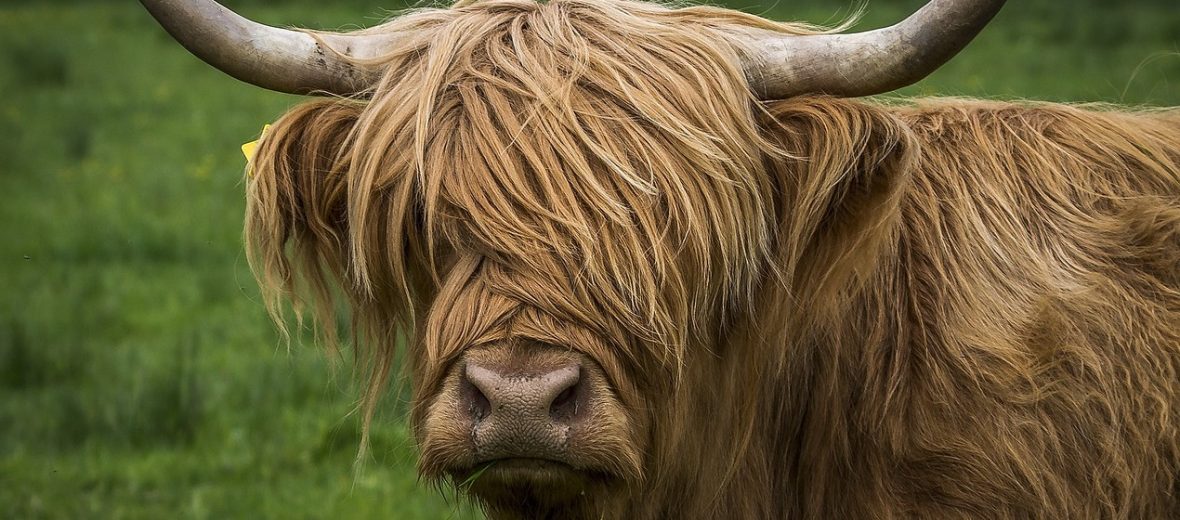 The highland cattle, aka Scottish highland cattle, can be found primarily in Scotland, but there are also populations located in Europe, North America, and Australia. They prefer wet, mountainous grasslands. These bovines are able to successfully endure harsh environments and have been around a long time. Due to their numbers, near global distribution, and their potential for habitat destruction, at the hands of grazing, these cattle are not currently evaluated by the IUCN.
First the Stats…
Scientific name: Bos primigenius taurus
Weight: Up to 1,800 lbs.
Length: Up to 4 feet
Height: Up to 4.1 feet
Lifespan: Up to 22 years
Now on to the Facts!
1.) A group of highland cattle are called a drift, drove, herd, mob, team,
or yoke.
2.) These cattle operate within a hierarchy system. In this system, males dominate females and the older cattle dominate the younger cattle.
3.) Calves that are born from the highest ranking cow, automatically receive a higher position in the herd.
4.) They participate in mounting, licking, and mock-fighting.
5.) Their horns are not only used to defend themselves against predators, but also to dig through the snow in order to forage for food.
But wait, there's more on the highland cattle!
6.) Being Herbivores (eat plant matter), the Scottish highlands will graze on various stems and grasses.
7.) Their predators include: wolves and coyotes.
Did you know…?
There were 2 subspecies of these cattle, the west highland, or Kyloe, and the Scottish highland. Due to massive crossbreeding, the 2 species became 1.
8.) Highland cattle are polygynous (1 males mates with multiple females).
9.) Females undergo up to a 9 month gestation (pregnancy) that yields a single calf.
10.) Calves are born precocial (self-sufficient).
But wait, there's still more on the highland cattle!
11.) The mother is devoted to her calf and will nurse for up to 6 months.
12.) As a result of grazing the highland cattle massively impacts the environment. In regions where these animals are bred in large quantities, their affect on the ecosystem causes erosion, invasions of exotic plant species, and the destruction of riparian habitats.
13.) These cattle were originally introduced to Britain by farmers back in the Neolithic period.
Did you know…?
Not only do these cattle spend up to 8 hours a day eating, they can put away up to 150 lbs. of grass per day!
14.) The 1st written references to the highland cattle dates as far back as the 12th century AD.
15.) The modern day highland cattle hail from Celtic origin.
But wait, there's still a little more on the highland cattle!
16.) Since these cattle possess a double coat, they not only can withstand extremely frigid temperatures, but they merely need more feed when the temps drop below -18°F. This speeds up their metabolism and allows them to withstand even colder temps.
17.) As ranchers will attest, these cattle are very intelligent and easy to tend to.
18.) These cattle tend to prefer free range grazing over being fed in barns.
Now a Short Highland Cattle Video!
Be sure to share & comment below! Also, check out the Critter Science YouTube channel. Videos added regularly!
Want to suggest a critter for me to write about? Let me know here.
Think you know a lot about critters? Try your hand at these fun, free quizzes: