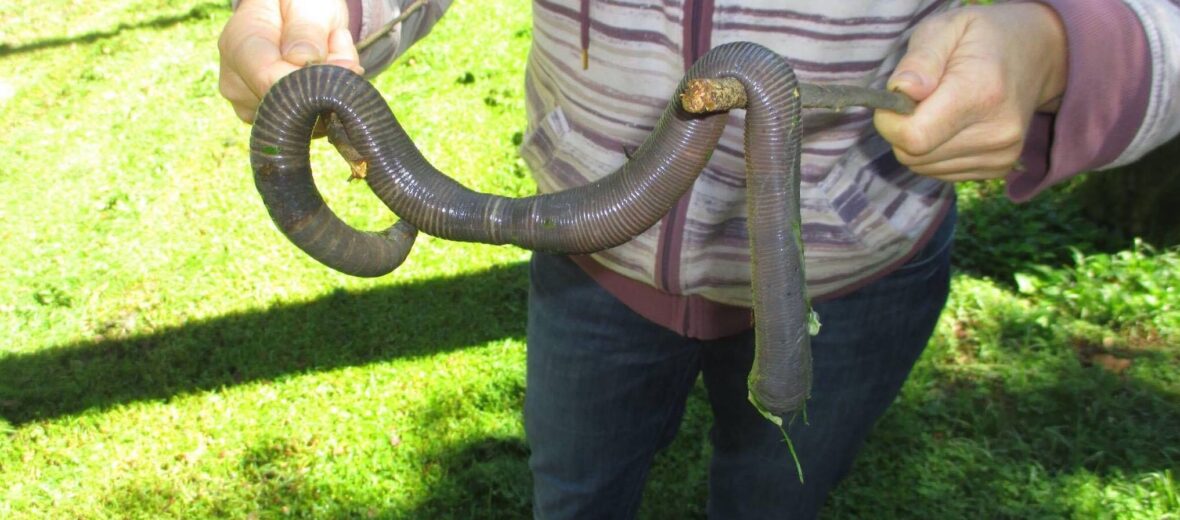 The giant Gippsland earthworm can only be found in the clay heavy soil along streams in Victoria, Australia. These giants are so elusive that they were only discovered in the late 1800s. They are isolated to just 150 square miles along the southeast tip of Australia. Their habitat was once filled with thick forests. It has been almost completely converted, via agriculture, to uninhabitable land. Toxins and tilling have pushed them to near extinction. They are now listed as Endangered by the IUCN.
First the Stats…
Scientific name: Megascolides australis
Weight: Up to .44 lbs.
Diameter: Up to .79 inches
Length: Up to 9.8 feet
Lifespan: Up to 10 years
Now on to the Facts!
1.) They have a high level of haemoglobin in their blood which helps them live in low-oxygen levels underground.
2.) Giant Gippsland earthworm burrows can span hundreds of feet!
3.) Burrows can go as deep as 5 feet.
4.) These worms, like other earthworms, eat algae, fungi, bacteria, and other microbes.
5.) Gippsland earthworms don't have teeth but they do have a gizzard filled with small stones used for the digestion of food.
But wait, there's more on the giant Gippsland earthworm!
6.) The wastes they excrete are called castings. Worm poop. These worms actually block their burrows with castings, making it harder to find them.
7.) Their mating ritual isn't fully known. But it is surmised that they either mate above ground or stretch themselves out, making themselves thinner, to allow for another worm along side it, in their burrow.
Did you know…?
You can actually hear them make a gurgling sound as they slither through their extensive burrows. This just adds to the cool factor of these beasts.
8.) The Gippsland earthworm has both male and female sex organs.
9.) After the exchange, sperm is stored for up to a year in chambers called spermathecae.
10.) Fertilization happens inside the egg cocoon, which a worm will produce only 1 time a year.
Now a Short Giant Gippsland Earthworm Video!
Also, check out the Critter Science YouTube channel. Videos added frequently!
Want to suggest a critter for me to write about? Let me know here.
Learn more about all kinds of cool critters, right here!