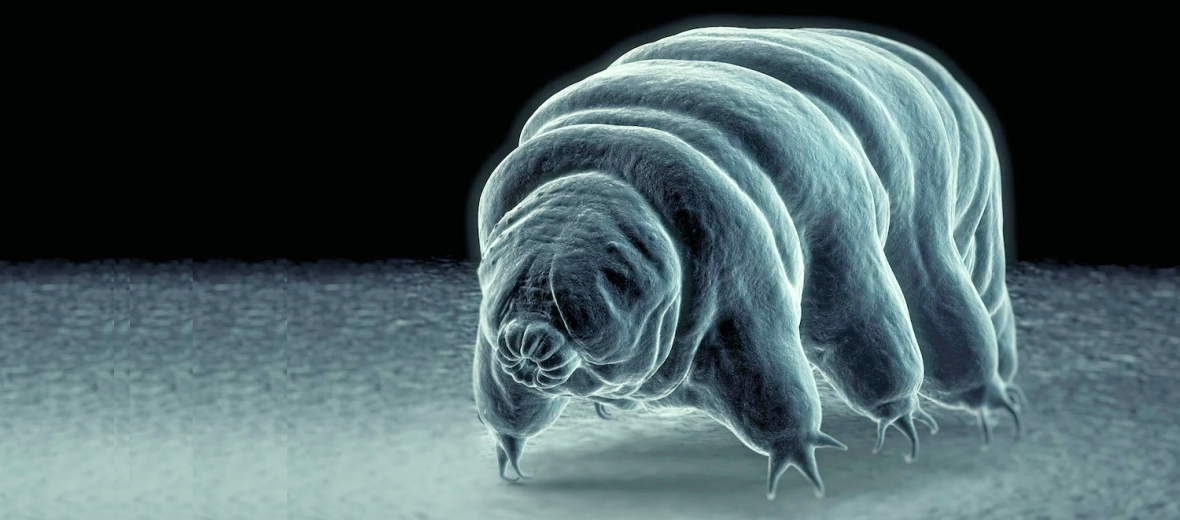 The tardigrade, aka water bear, moss piglet, or Kleiner Wasserbär, can be found in a wide variety of habitats. They've been found at top of the Himalayan mountains to the bottom of the sea, and from frigid Antarctica to boiling hot springs. 1 thing is for certain… they are tough! They have even been to outer space! Tardigrades are not currently evaluated by the IUCN.
First the Stats…
Scientific name: Tardigrada
Length: Up to .059 inch
Lifespan: Up to 2 years
Now on to the Facts!
1.) Their scientific name, Tardigrada, hails from the Italian biologist Lazzaro Spallanzani, in 1777, and translates to "slow steppers."
2.) Based on the species of tardigrade – yep there are 1,300 known species – they can survive extreme conditions that would kill most other critters. Conditions such as exposure to extreme pressures (both low & high), extremely high or low temperatures, radiation, dehydration, oxygen deprivation, and starvation.
3.) Tardigrades grow by ecdysis (molting), like arthropods.
4.) They have been around, in various forms, for at least 500 million years!
5.) These critters feed on plant cells, algae, and small invertebrates.
But wait, there's more on the tardigrade!
6.) Tardigrades are often found in large collections of 95,000 animals per gallon!
7.) Their body is comprised of a head, 3 body segments – each with a pair of legs, and a caudal segment with a 4th pair of legs. The legs lack joints, and the feet have 4 – 8 claws each. The first 3 pairs of legs are directed downward along the sides of the body and are the main means of movement. The 4th set of legs are used for grasping onto substrate.
Did you know…?
Some species of tardigrade only defecate (poop) when they molt, leaving the feces behind with the freshly shed cuticle (exoskeleton).
8.) The tubular mouth is equipped with stylets, that are utilized to pierce plant cells, algae, and small invertebrates. They release their body fluids or cell contents.
9.) The pharynx connects to a shortened esophagus, and then to an intestine that takes up much of the length of the body. This is the main location of digestion. The intestine opens, via a short rectum, to an anus situated at the terminal end of their body.
10.) Some of these critters are oviparous (produce eggs), and fertilization is typically external. Others have internal fertilization, with mating happening just before the female fully sheds her cuticle.
But wait, there's still more on the tardigrade!
11.) In many situations, the eggs are left inside the shed cuticle to further develop, but some species attach the eggs to substrate.
12.) Eggs hatch in up to 14 days.
Did you know…?
They can survive temperatures from −460°F up to 300°F for several minutes. They can also withstand pressures up to 6x greater than those found in the ocean's deepest trenches. These critters can also tolerate ionizing radiation at doses that are 100s of times greater than the lethal dose for humans. Tardigrades can also survive the vacuum of outer space.
13.) The young are hatched with their full adult cells and as they age and grow their cells simply enlarge (hypertrophy), rather than divide.
14.) Research shows that up to 9 males gather around a female to mate.
15.) Some species of tardigrades are cannibalistic and eat smaller tardigrades.
But wait, there's still a little more on the tardigrade!
16.) Being able to endure the above mentioned conditions and not thrive in them means they are not extremophilic.
17.) Tardigrades are capable of cryptobiosis (suspending their metabolism), while faced with extreme conditions outside their normal realm. While in this state, they can survive without food or water for upwards of 30 years, until the conditions are optimal again for the particular species.
Did you know…?
These durable little beasts have survived all 5 mass global extinction events!
18.) In April of 2019, 1000s of tardigrade tuns crash-landed on the moon aboard a doomed Israeli spacecraft called Beresheet. The crash landing subsequently scattered tardigrades across a section of the Moon. It is presumed that some may have lived, but can't for long, considering there is no oxygen, food, or water available.
19.) Pollution has been shown to decrease water bear populations.
20.) Some species are capable of parthenogenesis. This is the reproduction by a female without the aid of a male.
Now a Short Tardigrade Video!
Be sure to share & comment below! Also, check out the Critter Science YouTube channel. Videos added regularly!
Want to suggest a critter for me to write about? Let me know here.