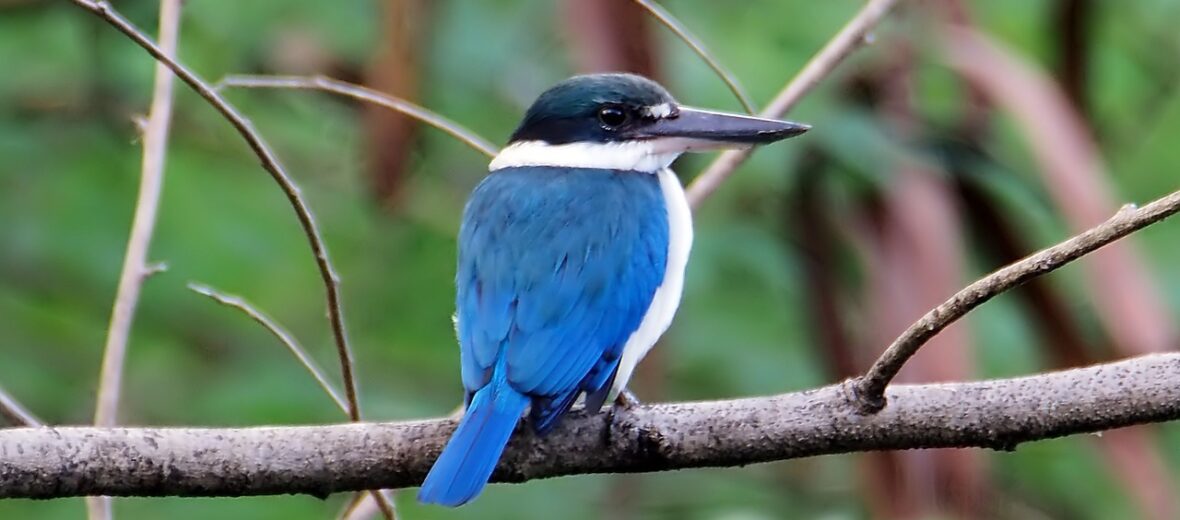 The collared kingfisher can be found on 3 continents: Asia, Australia, and Africa. They prefer sandy beaches, tidal areas, mangroves, harbors, and mudflats. These highly territorial birds are masters at the snatch and grab, perched up on a branch, usually about 9 feet +/- above the water or ground, then they lay in wait for the perfect opportunity to swoop down and grab unsuspecting prey. There are over 100 known species of kingfishers in the world. Due to their widespread range and numbers, the collared kingfisher is listed as Least Concern by the IUCN.
First the Stats…
Scientific name: Todiramphus chloris
Weight: Up to 3.2 ounces
Length: Up to 9.8 inches, plus a 3 inch tail
Lifespan: Up to 11 years
Now on to the Facts!
1.) These kingfishers, like many others, prey on fish, crabs, prawns, lizards, frogs, tadpoles, small snakes, insects, and earthworms.
2.) Collared kingsfishers are aggressive birds that not only steal food from others, but will attack anything they perceive as a threat to their chicks.
3.) Kingfishers are diurnal (active during the day).
4.) They use a series of laughing calls that range from a quiet chuckle to a loud "kek-kek, kek-kek" in order to communicate their intentions.
5.) A group of kingfishers is called a realm or a concentration.
But wait, there's more on the collared kingfisher!
6.) Their feathers aren't actually blue or green. The feather layers actually only reflect the blue and green waves from the sun.
7.) During courtship, the male will offer the female small tokens of his affection in order to win her over.
Did you know…?
When they catch a prey item and bring it back to their perch, they will beat it to death against the branches. Then they feast.
8.) Females lay between 2 – 5 eggs each season.
Now a Short Collared Kingfisher Video!
Also, check out the Critter Science YouTube channel. Videos added frequently!
Want to suggest a critter for me to write about? Let me know here.
Learn more about all kinds of cool critters, right here!