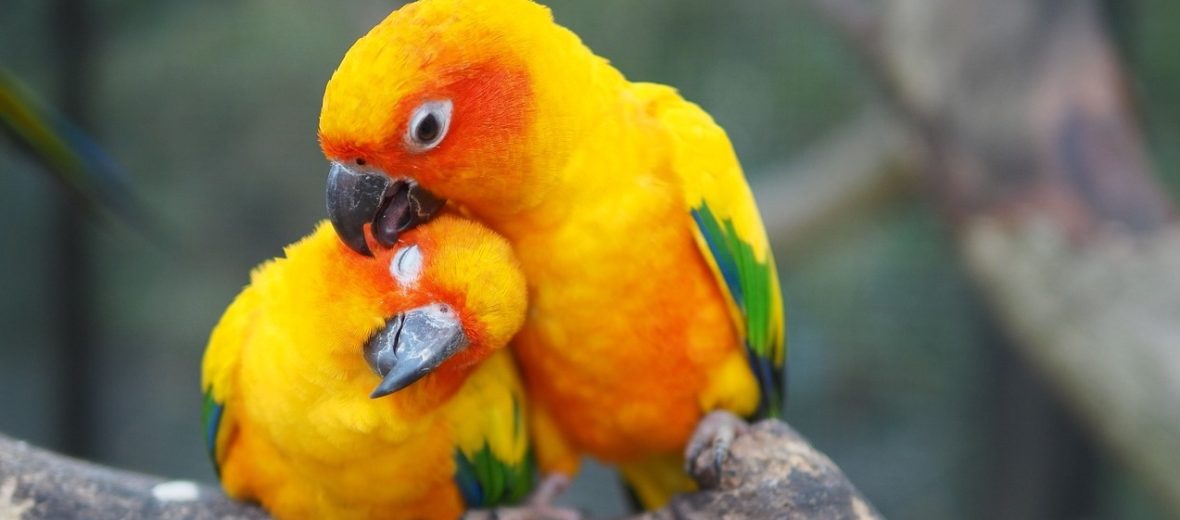 The sun parakeet, aka sun conure, hails from the north Brazilian state of Roraima, southern Guyana, southern Suriname, and southern French Guiana. They prefer coastal forests and dry savanna woodlands. Due to the threats of habitat loss at the hands of agriculture, logging, and fire suppression; hunting; and trapping, these beautiful birds are listed as Endangered by the IUCN. Their numbers are also decreasing.
First the Stats…
Scientific name: Aratinga solstitialis
Weight: Up to 4.3 ounces
Length: Up to 12 inches
Wingspan: Up to 12 inches
Lifespan: Up to 25 years
Now on to the Facts!
1.) These social birds dwell in flocks of up to 30 individuals.
2.) A group of sun conures is called a company, flock, or pandemonium.
3.) Sun parakeets are diurnal (active during the day).
4.) While feeding, these birds are rather quiet. But they are very loud when in flight.
5.) If an individual gets separated from their flock, they will vocalize loudly until they are reunited with their flock.
But wait, there's more on the sun parakeet!
6.) These birds are fast in flight and travel numerous miles each day in search of food.
7.) Berries, blossoms, flowers, fruits, seeds, and nuts are all on the menu. Insects are also occasionally consumed.
Did you know…?
Numerous sun conures are captured, each year, for the exotic pet trade.
8.) Since they are also known to feast on agricultural crops, they are also sometimes considered pest birds.
9.) Sun parakeets are monogamous (mate for life).
10.) Females lay up to 4 eggs that hatch in up to 27 days.
But wait, there's still more on the sun parakeet!
11.) Both parents participate in feeding their young.
12.) Chicks are born altricial (blind and helpless) and become independent at around 12 weeks of age.
13.) There are only an estimated 3,749 wild individuals remaining.
14.) Sadly, it is estimated that there are, most likely, more captive sun parakeets in existence than wild ones.
Now a Short Sun Parakeet Video!
Pick up your Critter Science books today, at Amazon!
Be sure to share & comment below! Also, check out the Critter Science YouTube channel. Videos added regularly!
Want to suggest a critter for me to write about? Let me know here.