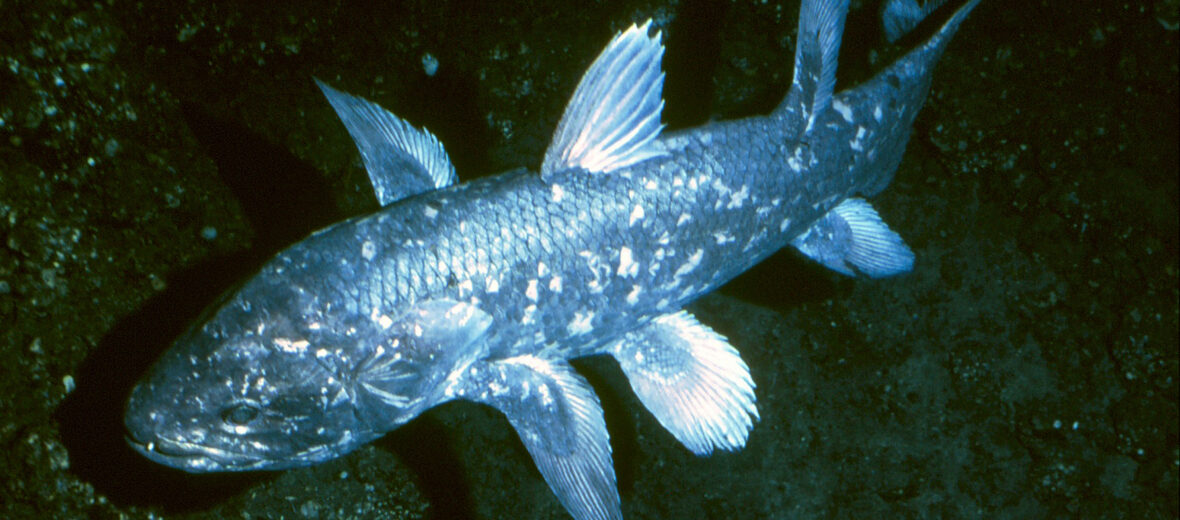 The coelacanth (pronounced SEEL-uh-kanth) has been around for approximately 390 million years! These giants have not really evolved much either. There are only 2 known living species of coelacanth: The West Indian Ocean coelacanth and the Indonesian coelacanth. Both species are very rare. The Indian is listed as Critically Endangered and the Indonesian is listed as Vulnerable, due to overfishing and water pollution.
First the Stats…
Scientific name: Latimeria chalumnae
Weight: Up to 200 lbs.
Length: Up to 6.5 feet
Lifespan: Up to 60 years
Now on to the Facts!
1.) Until 1938 they were thought to be extinct.
2.) Coelacanths were once believed to be the ancestors of tetrapods (4-legged, land animals), but recently analysis of the coelacanth suggests that lungfish are more closely related to tetrapods.
3.) 1 reason for this belief is that the way they alternate the movement of their paired fins is like the movement of the forelegs and hindlegs of a tetrapod walking.
4.) The coelacanth has an intracranial joint located behind the eyes that splits the skull in 2. This allows the entire snout to swing upward when they open their mouth; allowing them to take huge bites.
5.) These fish will head stand for several minutes, on occasions. It isn't entirely clear why they do this. It is surmised that they are looking for prey.
But wait, there's more on the coelacanth!
6.) It is surmised that they are seasonably monogamous (mate with 1 partner each season).
7.) As they age, coelacanth's brain cases continue growing, but their brains are slow to catch up; only filling up to 1.5% of their potential space. The remaining space is filled with fatty tissue.
Did you know…?
The word coelacanth means hollow spine and is in reference to the hollow, rod-like rays that are located in their dorsal fins.
8.) Embryos have been recorded growing lungs at an early point in their long developmental period. However, over time, a coelacanth's lung growth slows, and by the time they reach adulthood, the lungs stop serving any purpose at all.
9.) Coelacanths have what is called a rostral organ in their noses that is part of an electrosensory system. They most likely use the generated electroreception to find their way around and to detect prey.
10.) They are Nocturnal (active at night).
But wait, there's still more on the coelacanth!
11.) After up to a 3 year Gestation (pregnancy) females give birth to up to 25 live young.
12.) These ancient fish prey on benthic (bottom level) fish and various cephalopods (squids and octopuses).
13.) Coelacanths are known to taste terrible as they secrete a foul-tasting oily substance.
14.) The coalacanth has been seen swimming at depths of up to 2,300 feet.
Now a Short Coelacanth Video!
Also, check out the Critter Science YouTube channel. Videos added frequently!
Want to suggest a critter for me to write about? Let me know here.
Learn more about all kinds of cool critters, right here!