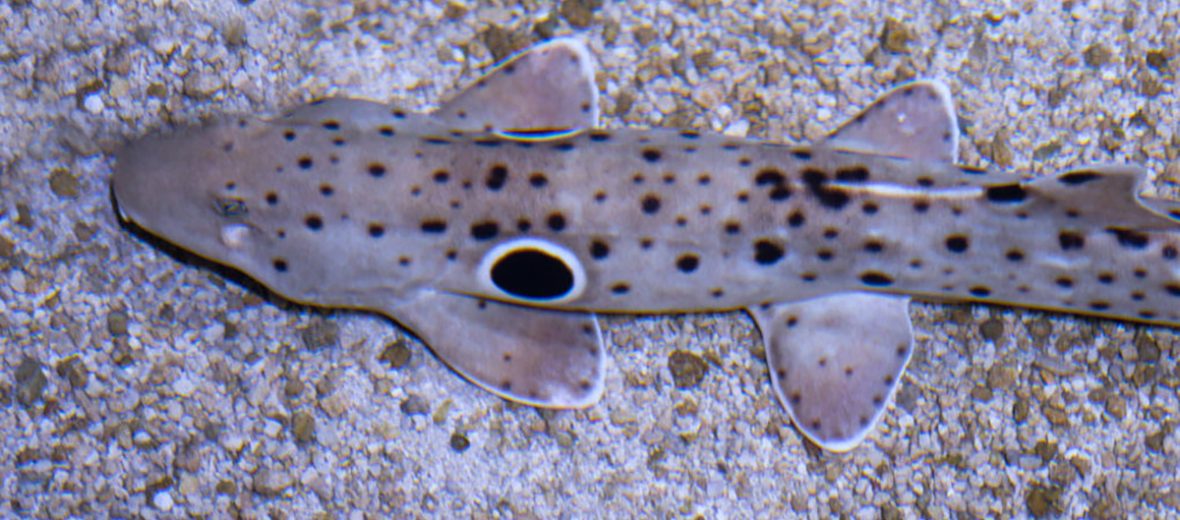 The epaulette shark, aka itar shark or blind shark, can be spotted in the waters of Australia, Papua New Guinea, and Indonesia. They prefer warmer water and depths of no more than 164 feet. These sharks can sometimes be seen in shallow tide pool waters as well. Even though they suffer at the hands of overfishing and habitat destruction, these cool sharks are still listed as Least Concern by the IUCN, with a stable population, overall. They are listed as Near Threatened, in New Guinea though.
First the Stats…
Scientific name: Hemiscyllium ocellatum
Weight: Up to 6.4 lbs.
Length: Up to 42 inches
Lifespan: Up to 25 years
Now on to the Facts!
1.) The large black eyespot located behind their head, which looks like the shoulder ornaments on military uniforms, is an evolutionary trait that helps make them look larger than they actually are. Large, conspicuous eyespots are considered to be intimidating for the Predator thus decreasing the chances of an attack – the "Intimidation Hypothesis."
2.) Muscular pectoral fins afford the shark the ability to almost walk from tide pool to tide pool and even short distances on land.
3.) Most sharks swallow their prey whole. However, epaulette sharks will bite off small pieces and chew their food before swallowing.
4.) These sharks are a member of the carpet shark family, like wobbegongs.
5.) Epaulettes are primarily nocturnal (active at night).
But wait, there's more on the epaulette shark!
6.) They prey on crabs, worms, small bony fish, and shrimp.
7.) Larger sharks and groupers prey on epaulettes.
Did you know…?
Even though they can swim, most of their locomotion is based on a salamander-like, waddling gait via their pectoral and anal fins.
8.) Females produce up to 50 egg cases each year that hatch in up to 120 days.
9.) Newborn sharks are born precocial (totally self sufficient).
10.) With keen eyesight, sensitive nasal barbells, and the use of their ampullae of Lorenzini (the sensory organ that detects subtle electrical impulses of prey), these sharks are efficient hunters.
But wait, there's still more on the epaulette shark!
11.) Often times they will perch in the open on sandy flats or on reefs facing towards the current. This is a form of orientation known as rheotaxis and it is believed that this may improve respiration and/or predator awareness.
12.) Some scientists have suggested that these shark's waddling/walking movement might be similar to the movements utilized by the first vertebrates that moved from their aquatic environment to a terrestrial environment. This is also known as convergent evolution.
Did you know…?
They can survive with as little as 5% of the atmospheric O2 level without losing behavioral responsiveness.
13.) These sharks can survive hypoxia (surviving on very little oxygen) for upwards of several hours. They can also withstand much higher temperatures that most other fishes. This helps them to be successful in their shallow water habitats.
14.) These sharks were first described as Squalus ocellatus by the French naturalist Pierre Joseph Bonnaterre in 1788. This name was later changed to Hemiscyllium ocellatum.
15.) Epaulette sharks are generally harmless to humans, but they can bite, if cornered or mishandled.
Now a Short Epaulette Shark Video!
Be sure to share & comment below! Also, check out the Critter Science YouTube channel. Videos added regularly!
Want to suggest a critter for me to write about? Let me know here.
Think you know a lot about critters? Try your hand at these fun, free quizzes: