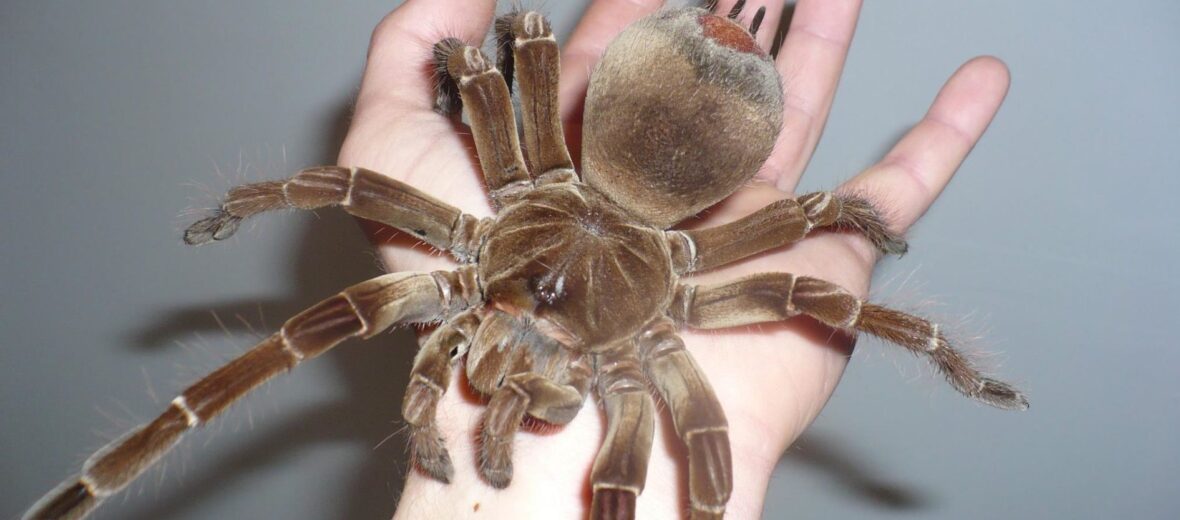 If you suffer from arachnophobia, then you'll love this critter! The Goliath bird eating tarantula is in a group of spiders that are the largest, by weight, of any known spider. Second only in dimension to Australia's huntsman spider. I have owned and handled several in my day and love these critters! They're so impressive and always get your attention. These spiders are so large that you can hear them hiss when agitated! They prefer the rainforests of Central and South America. Goliaths, as other "bird eaters" like leafy undergrowth, logs of fallen trees, and the areas around buttress roots. This species is not currently evaluated by the IUCN.
First the Stats…
Scientific name: Theraphosa blondi
Weight: Up to 6.5 ounces
Length: Up to 4.7 inches
Legspan: Up to 11 inches
Lifespan: Up to 25 years
Now on to the Facts!
1.) First off, the common name of bird-eating tarantula is a bit inaccurate, as this large tarantula doesn't actually eat birds. Instead, its diet consists mostly of insects and other invertebrates. They will also catch small vertebrates such as lizards, frogs, and small mammals.
2.) Like all arachnids, the bird-eating tarantula has poor eyesight and instead detects prey mainly by sensing vibrations in the ground or by vibrations felt via the hairs on it's body.
3.) These tarantulas have 0.75 – 1.5 inch fangs, on average, and inflict a non-lethal but very painful bite! Yes, they are venomous, like all known tarantulas, but there's no risk of death.
4.) As mentioned, the Goliath bird eater is large enough to hear them hissing from several feet away!
5.) When threatened by a larger Predator, they will perform what is known as kicking hairs. The bird eating tarantula will actually use its back legs to break off and fling its urticating hairs on its abdomen and throw these hairs at the attacker; in the hopes of getting them in the attacker's eyes. These hairs are similar, in irritation, to fiberglass. They cause extreme itching, redness, and irritation until removed.
But wait, there's more on the bird eating tarantula!
6.) Bird eating tarantualas, like many arachnids, are sexually dimorphic. This means that the males and females are drastically different in size. The males of this species are quite a bit smaller and shorter lived than the females.
7.) After their maturation molt, males develop a "finger" on the underside of the first set of front legs that is used to hook and lock the female's fangs and to steady themselves while they mate. After mating, males die within a few months, if the female doesn't eat them first.
Did you know…?
Fear of spiders is called arachnophobia? Some people will flee when seeing a spider. Others will literally freeze in terror.
8.) In order to grow, spiderlings must go through several molts. Molting is the process in which the tarantula sheds its old exoskeleton and emerges as a new, larger body size. Spiderlings can molt five or six times in their first year. They can take around 2 – 3 years to reach maturity.
9.) Bird eating tarantulas are nocturnal, (active at night).
10.) The Goliath bird eating tarantula is the largest of all known "bird eaters"!
Now a Short Video!
Also, check out the Critter Science YouTube channel. Videos added frequently!
Want to suggest a critter for me to write about? Let me know here.
Learn more about all kinds of cool critters, right here!