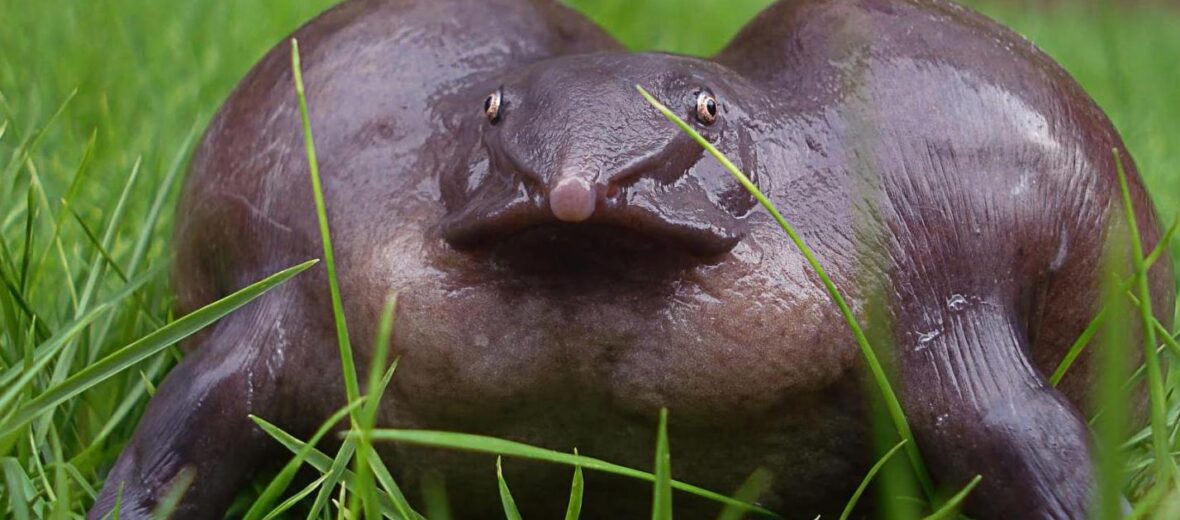 Looking like a purple bean bag with a pointed nose, the purple frog calls the Western Ghats of India its home. They spend most of the year buried in the loamy soil in wait for the monsoon season, where they emerge to reproduce. These purple wonders are also known as the pignose frog or doughnut frog. This cool looking frog is listed as Endangered by the IUCN. This is a special request article, from Ryan.
First the Stats…
Scientific name: Nasikabatrachus sahyadrensis
Weight: Up to 5.8 ounces
Length: Up to 3.5 inches
Lifespan: Unknown but most frogs live up to 15 years
Now on to the Facts!
1.) These little frogs have been around for about 100 million years.
2.) The purple frog's call sounds like that of a clucking chicken.
3.) Their primary source of food are ants and termites.
4.) Primary predators include… well… us. That's right. Humans consume this frog and it may be taking a toll on their numbers.
5.) Purple frogs got their Latin name from the Sanskrit word for nose, "nāsikā".
But wait, there's more on the purple frog!
6.) Habitat destruction is their main cause for decline. Some of these intrusions are mining, plantations, and rerouted dams.
7.) Females lay up to 3,800 eggs at a time, which the male fertilizes.
Did you know…?
Purple frogs only emerge from their burrows for 2 weeks out of each year. They find a mate, reproduce, then go back underground.
8.) Tadpoles take up to 100 days to metamorphose into adults.
Now a Short Purple Frog Video!
Also, check out the Critter Science YouTube channel. Videos added frequently!
Want to suggest a critter for me to write about? Let me know here.
Learn more about all kinds of cool critters, right here!