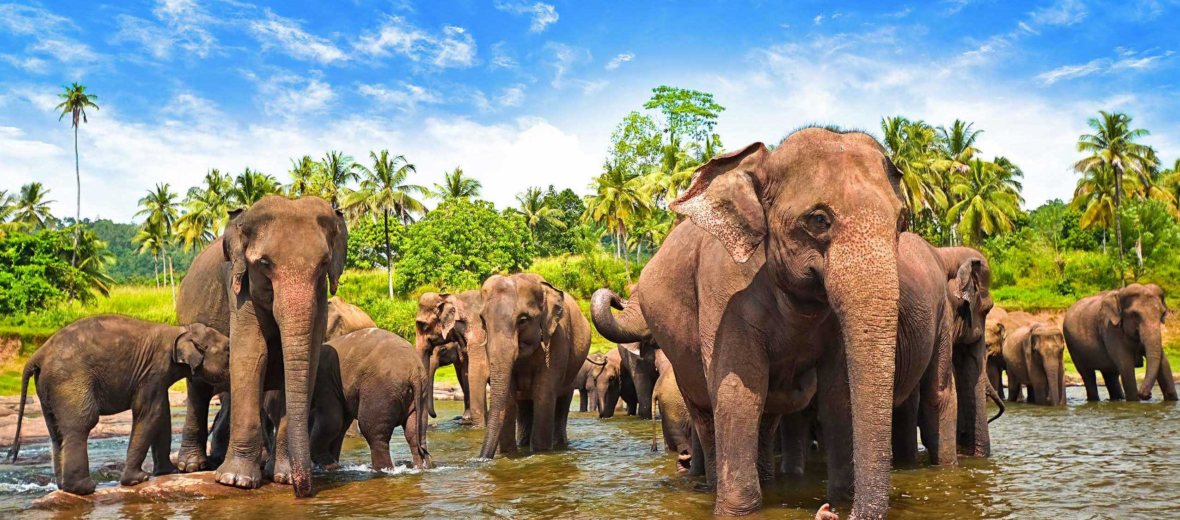 The beautiful Sri Lankan elephant is 1 of 3 recognized subspecies of Asian elephants. These magnificent beasts can be found in Sri Lanka in a wildlife reserve called the Peak Wilderness Sanctuary. They prefer open savannas, open grasslands, forested regions, lake shores, and marsh lands. Due to the severely fragmented and decreasing populations, the Sri Lankan elephants are listed as Endangered by the IUCN. They suffer greatly at the hands of habitat destruction, competition with agriculture (cattle), invasive species, disease, and climate change.
First the Stats…
Scientific name: Elephas maximus maximus
Weight: Up to 12,000 lbs.
Length: Up to 21 feet
Height: Up to 11 feet
Lifespan: Up to 70 years
Now on to the Facts!
1.) Due to the construction of roads, they are unable to follow their traditional migratory routes.
2.) The Sri Lankan elephants can be differentiated from other Asian elephants by the depigmentation of their skin. Parts of their skin lack the grey coloration. This is found on their face, ears, trunk, and stomach.
3.) These highly social creatures have been seen in large matriarchal (led by a female) groups of up to 20+ elephants.
4.) As mentioned, these beasts are migratory creatures that travel along specific routes between the wet and dry seasons, as determined by the effects of the monsoon season.
5.) Due to increased agriculture, their routes have been interrupted. So they will come into conflict with farmers, as they migrate through their fields and cause significant damage to crops. But hey, the elephants were here first.
But wait, there's more on the Sri Lankan elephant!
6.) Due to the adversities they face, their wild populations have declined by over 50% over the past 3 generations.
7.) Although these beautiful creatures are typically cathemeral (active during the day and night), many will spend the day resting under large trees.
Did you know…?
They can run up to 15 mph.
8.) A group of elephants is appropriately called a memory, parade, or herd.
9.) These Herbivores (eat plant matter) and Folivores (eat leaves) consume large quantities of leaves, shoots, grasses, barks, fruits, nuts, seeds, and various other types of vegetation.
10.) While not extensively documented, it is presumed that these critters are polygynous (1 male mates with several females).
But wait, there's still more on the Sri Lankan elephant!
11.) Females undergo up to a 22 month gestation (pregnancy) that produces a single calf.
12.) The calf can weigh up to 220 lbs.!
13.) Calves are tended to by their mother and other females in the herd, called "aunties".
Did you know…?
Elephants have the the largest brain of all the terrestrial mammals in the world.
14.) After a period of up to 5 years, the young males will head out on their own, as a bachelor. The females tend to stay with the herd.
15.) The females will breed about every 4 – 6 years.
But wait, there's still a little more on the Sri Lankan elephant!
16.) Domestication of these elephants goes back a long way. It started with the Sinhalese Kings, who kept these creatures for military purposes as well as for exhibition of their monarchical might.
17.) When a chieftain would capture elephants for the Sinhala kings, the king in question, would typically allow the chieftain to keep a couple.
Did you know…?
Elephant trunks have up to 100,000 muscles! Their trunks are used for smelling, breathing, drinking, grasping objects, and producing sounds.
18.) Asian elephants are still used to this day for ceremonies, construction, logging, tourism, and work with temples.
19.) Besides dolphins and great apes, Sri Lankan elephants are able to recognize themselves in a mirror. This proves self awareness.
20.) Even though their hide is up to 1 inch thick, their skin is still sensitive to sunburn. Hence why they will cover themselves with mud and dust, which acts as a sunscreen.
But wait, there's just a tad more on the Sri Lankan elephant!
21.) Believe it or not, as large as these critters are, they actually have a sort of fear or disdain for ants. It is believed that they avoid a certain type of acacia tree that is typically covered with ants. This is because the ants can then crawl into their highly sensitive trunks.
22.) Sadly, there are only around 7,500 or less of these elephants left in the wild, as of a report from 2019. So there could be fewer now.
Now a Short Sri Lankan Elephant Video!
Be sure to share & comment below! Also, check out the Critter Science YouTube channel. Videos added frequently!
Want to suggest a critter for me to write about? Let me know here.
Learn more about all kinds of cool critters, right here!