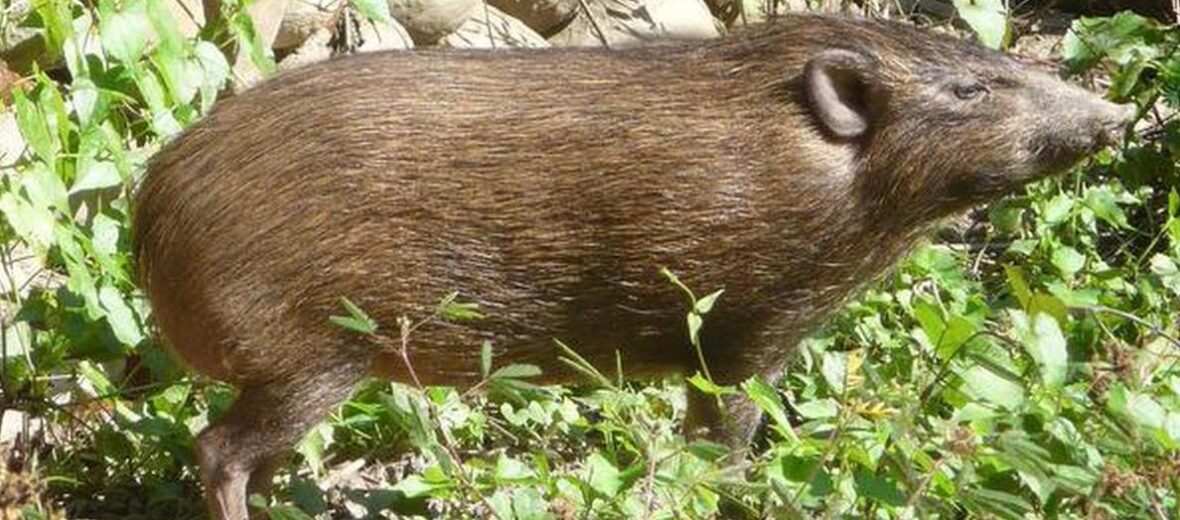 The title for the rarest and also the smallest hog in the world goes to the pygmy hog. These diminutive critters can be found in Assam and in southern Bhutan, India. They prefer the tall grasslands in the foothills of the Himalayas. Due to residential and commercial development, agricultural growth and development, logging and wood harvesting, hunting, trapping, fires (as well as controlled burning), and other ecosystem modifications, these critters only number approximately 250 wild individuals. They are listed as Endangered by the IUCN and their numbers are dwindling.
First the Stats…
Scientific name: Porcula salvania
Weight: Up to 12 lbs.
Length: Up to 20 inches
Height: Up to 10 inches
Lifespan: Up to 14 years
Now on to the Facts!
1.) These social hogs live in small family herds of about 2 females and their offspring.
2.) Males live a solitary life and only come together to breed with the females.
3.) Pygmy hogs are diurnal (active during the day).
4.) They construct sleeping dens or nests by digging out a small trench and lining it with grass and leaves.
5.) A group of hogs is called a drift, drove, herd, sounder, or team.
But wait, there's more on the pygmy hog!
6.) Like other hogs, they are Omnivores (eat plant and animal matter) that feast on roots, tubers, leaves, insects, rodents, small reptiles, and amphibians.
7.) They breed each season, just before the monsoons hit.
Did you know…?
Pygmy hogs are astonishingly fast runners that can reach speeds of up to 15 mph, and can even swim with ease.
8.) Females undergo up to a 100 day gestation (pregnancy) that yields up to 6 piglets.
9.) The piglets, or shoats, hide in the thick vegetation for about a week after birth, until the birthing scent has dwindled. Then they join the drove.
10.) Crows, mongooses, and small wildcats prey on the piglets and eagles, hawks, pythons, and tigers prey on the adults and piglets.
Now a Short Pygmy Hog Video!
Be sure to share & comment below! Also, check out the Critter Science YouTube channel. Videos added frequently!
Want to suggest a critter for me to write about? Let me know here.
Learn more about all kinds of cool critters, right here!