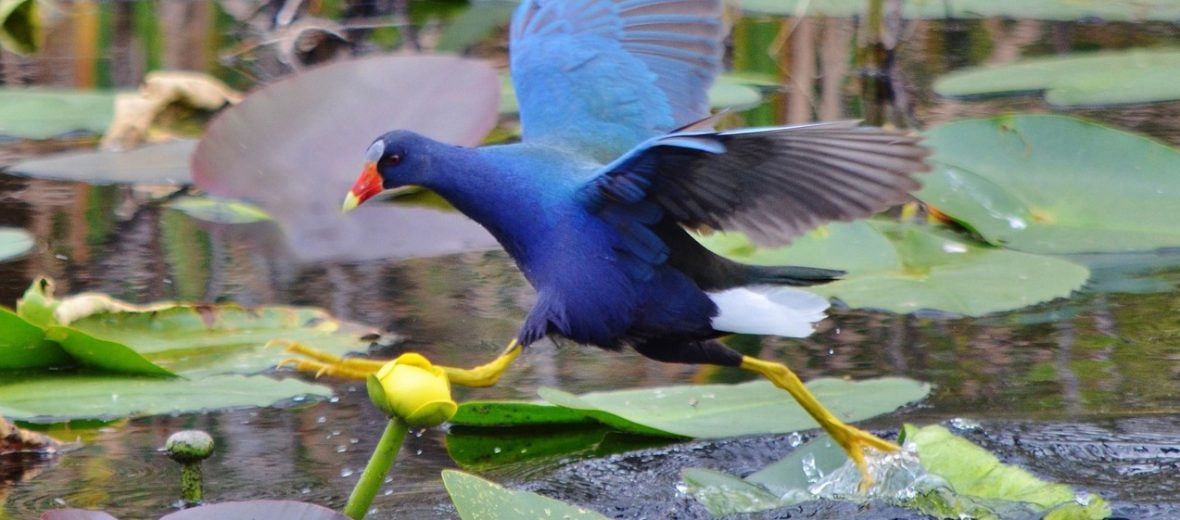 The purple gallinule, aka American purple gallinule or Yellow-legged gallinule, can be found in the United States, Mexico, Central America, South America, the Caribbean Islands, and there are even some populations in Iceland, Portugal, and the United Kingdom. These swamphens prefer freshwater marshes with thick vegetation. They also like ponds, lakes, reservoirs, and rice fields. Even though they face the threats of habitat destruction and pollution, these birds are listed as Least Concern by the IUCN. Their populations are decreasing though.
First the Stats…
Scientific name: Porphyrio martinicus
Weight: Up to 1.7 lbs.
Length: Up to 1.7 feet
Wingspan: Up to 21 inches
Lifespan: Up to 22 years
Now on to the Facts!
1.) Purple gallinules are diurnal (active during the day).
2.) Not being very powerful on the wing, these birds prefer to wade in the water or stroll across aquatic vegetation.
3.) These birds are rather shy and will flee, via running, flying, or diving to get away from a threat.
4.) They produce cackling calls, guttural grunts, and squawking calls.
5.) The purple gallinule is an omnivore (eats plant and animal matter) that consume leaves, seeds, and various fruits of terrestrial and aquatic plants. They also prey on frogs, snails, insects, earthworms, and fish.
But wait, there's more on the purple gallinule!
6.) On rare instances, they may also take other bird's eggs and baby birds.
7.) These critters are monogamous (mate for life).
Did you know…?
When these birds feed, they will use their feet to hold onto the food.
8.) Females lay up to 10 eggs that hatch in up to 20 days.
9.) Both parents incubate the eggs and guard them and their young fiercely.
10.) Chicks are born precocial (self-sufficient). After about 1 week, the chicks can fly and fend for themselves.
Now a Short Purple Gallinule Video!
Pick up your Critter Science books today, at Amazon!
Be sure to share & comment below! Also, check out the Critter Science YouTube channel. Videos added regularly!
Want to suggest a critter for me to write about? Let me know here.