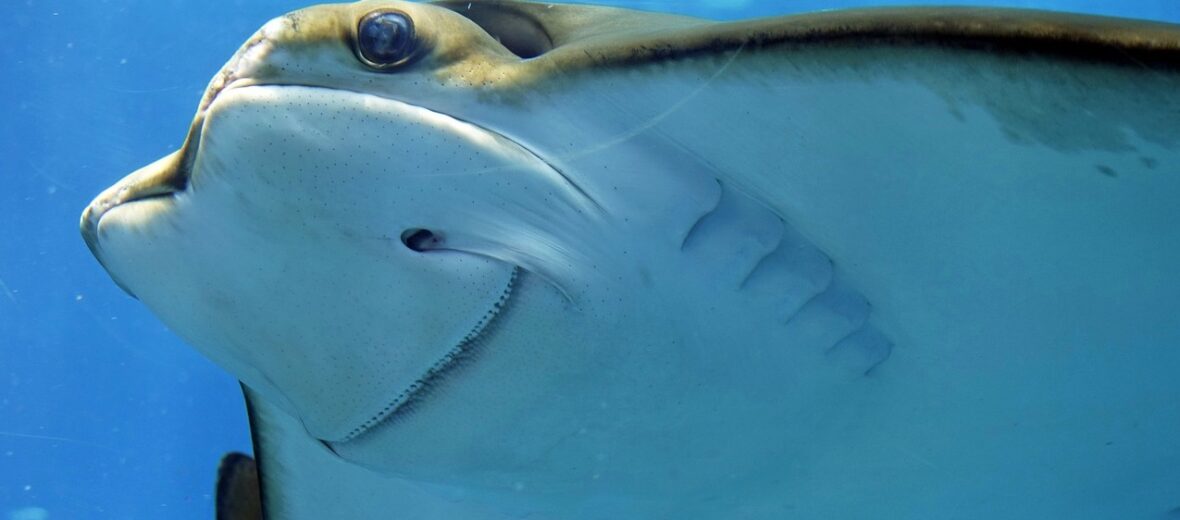 With their odd looking, flattened body the stingray silently maneuvers through the shallow tropical and subtropical waters throughout the world; armed, in most cases, with a venomous stinger to defend against predators. Some even have multiple barbs. These mysterious critters belong to a group of fish called elasmobranchs. Being closely related to sharks, they use cartilage and hardened flesh to shape their bodies and glide effortlessly over sand and reef structures, and are even able to bury themselves in the sand; becoming almost invisible. There are 220 known species of stingray in the world and some don't even have venomous spines. These amazing creatures are listed in a variety of IUCN categories. Some are Near Threatened, some Endangered, some Vulnerable, and many are listed as Least Concern. All face similar plights. That being over fishing, death via bycatch (caught in fishing nets and on long lines), pollution, over-collection, and habitat loss.
First the Stats…
Scientific name: Myliobatoidei
Weight: Up to 790 lbs.
Length: Up to 14+ feet
Lifespan: Up to 25 years
Now on to the Facts!
1.) Some people make daggers from the spines of stingrays. Their venom can still be deadly, for some time, even if the spine is taken from a dead stingray.
2.) At one time Greek dentists once used stingray venom as an anesthetic.
3.) The skin of certain stingrays is actually used as an under layer for the cord on some swords made by the Japanese due to the hardened skin texture.
4.) These rays have been around for approximately 150 million years, with fossil records dating back to the Lower Jurassic Period.
5.) Short-tailed stingrays are the largest saltwater stingrays reaching lengths of up to 14 feet!
But wait, there's more on the stingray!
6.) The giant freshwater stingray is also able to grow to 14 feet long or more! 1 was caught in Thailand's Mae Klong River that, to date, is the largest freshwater fish ever caught.
7.) Stingrays eat clams, shrimp, crabs, mussels, and sometimes fish.
Did you know…?
In an extremely unfortunate incident, the late, great Steve Irwin lost his life via a stingray barb that pierced his heart. His joy and compassion for all living creatures will be forever missed.
8.) Sharks, sea lions, seals, and larger Carnivorous fish prey on rays; as do humans.
9.) When they capture their prey they use their powerful jaws to crush the shells in order to eat the flesh inside.
10.) Their mouths gill slides, and nostrils are all located on the underside of their body.
But wait, there's even more on the stingray!
11.) Their eyes are located on top of their body, but they don't often rely on them to locate prey. Like sharks, they have electroreceptors in their snouts that help to pick up on even the faintest electrical impulse from their prey items.
12.) Rays are typically very receptive to a human's presence. They only act aggressively when they feel threatened. For example, when they are stepped on or are cornered.
13.) Many stingrays swim via undulation of their sides in a wave-like motion. Other rays flap their sides up & down, making it look like they're flying through the ocean like some sort of water bird.
Did you know…?
If swimming or wading in known stingray territory, it is best to shuffle your feet along the sandy bottom to alert a ray that you're coming. Stepping on one can result in a very painful and potentially deadly sting!
14.) A group of stingrays is called a school.
15.) Females birth between 2 – 6 pups each year. The pups are born totally self-sufficient.
But wait, there's a little more on the stingray!
16.) Some stingrays undergo delayed implantation, where the male's sperm is stored by the female until environmental conditions are right. Then the eggs will be fertilized and young produced.
17.) In Malaysia and Singapore, stingrays are a popular delicacy.
18.) Their leathery skin is often used to make exotic boots, shoes, wallets, belts, jackets, and even mobile phone cases. This is one of the demands that has caused a decline in certain ray species' numbers.
19.) In public aquariums, where rays are allowed to be handled, the barbs are always shortened by cutting the sharp tip(s) off. This prevents them from being able to sting the guests, if they feel threatened. The barbs grow continually though and have to be re-cut again as time goes by.
Now a Short Stingray Video!
Also, check out the Critter Science YouTube channel. Videos added frequently!
Want to suggest a critter for me to write about? Let me know here.
Learn more about all kinds of cool critters, right here!