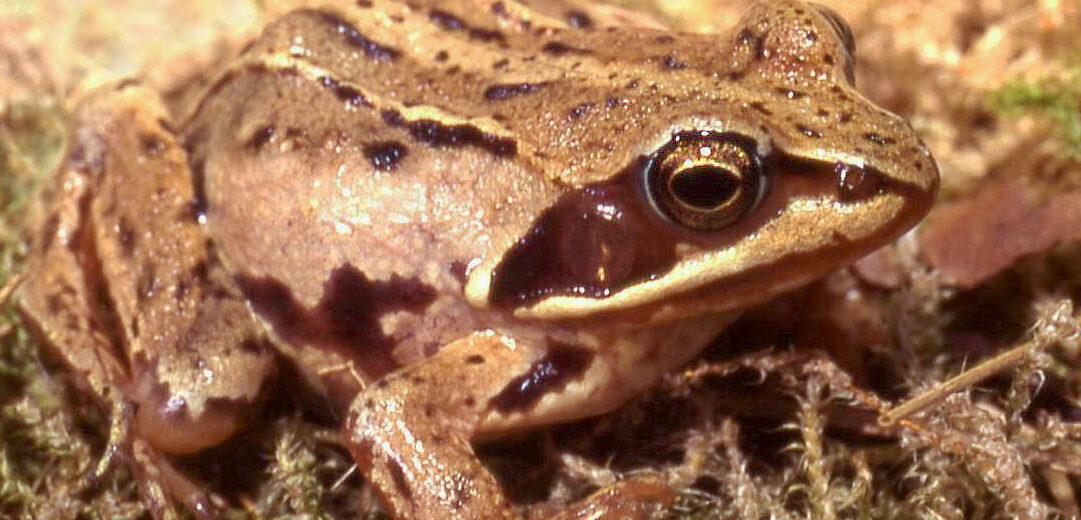 Found in Europe and Asia, the moor frog calls swamps, meadows, steppes, semi-deserts, fields, forests, and gardens its home. This extremely adaptable frog is capable of conforming to changes in its environment. They are able to withstand habitat destruction at the hands of over-grazing and pollution of water and soil. Due to their numbers and resilience they are listed as Least Concern by the IUCN. This article is on special request from Ryan.
First the Stats…
Scientific name: Rana arvalis
Weight: Up to 2+ ounces
Length: Up to 2.8 inches
Lifespan: Up to 12+ years
Now on to the Facts!
1.) The moor frog is considered semi-aquatic, in that it is equally at home on land and in water.
2.) Like other frogs, this species is carnivorous (eats meat) and preys on insects and slugs.
3.) They are preyed on by birds, snakes, and larger frogs. Tadpoles are preyed upon by predatory dragonfly nymphs and water bugs.
4.) Moor frogs brumate during the colder winter months.
5.) Their defensive camouflage helps them hide from predators. If that doesn't work, they will attempt to leap to safety.
But wait, there's more on the moor frog!
6.) Breeding takes place between March – June.
7.) Females lay up to 3,000 eggs in a large mass (called frog spawn), at the water's edge.
Did you know…?
Their scientific name means "frog of the fields".
8.) Tadpoles metamorphose between June – October.
9.) These frogs do not appear to be adversely affected by chytridiomycosis, a fungus responsible for mass amphibian deaths the world over.
10.) Moor frog tadpoles feed on algae and small aquatic invertebrates.
Now a Short Moor Frog Video!
Also, check out the Critter Science YouTube channel. Videos added frequently!
Want to suggest a critter for me to write about? Let me know here.
Learn more about all kinds of cool critters, right here!