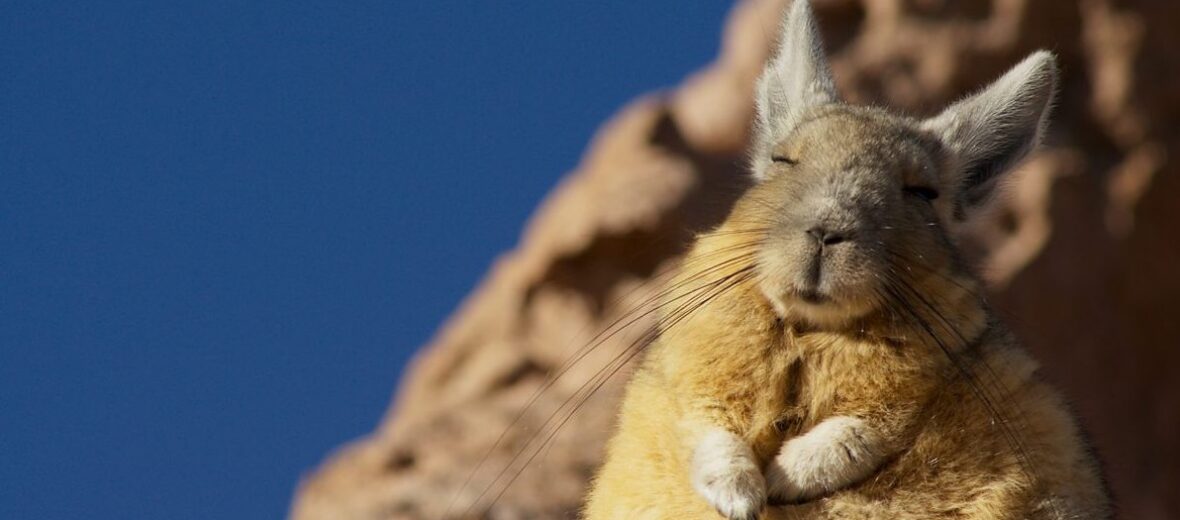 Closely related to the chinchilla, the viscacha hails from South America. These rodents prefer mountainous regions with plenty of rocks, crags, and sparse vegetation. Humans are the biggest threat to viscachas, as they hunt them for their fur and meat. However, they are still abundant and thus listed as Least Concern by the IUCN.
First the Stats…
Scientific name: Lagidium or Lagostomus
Weight: Up to 5.9 lbs.
Length: Up to 18 inches, plus up to a 14 inch tail
Lifespan: Up to 19 years
Now on to the Facts!
1.) Viscachas are colonial rodents that live in groups of up to 80 individuals.
2.) They are crepuscular (active at dawn and dusk).
3.) These herbivores (eat plant matter) graze on grasses, mosses, and lichens.
4.) Their primary natural predators are wild cats and birds of prey.
5.) Uncharacteristic of rodents, viscachas are very vocal; using a wide variety of sounds to communicate. This includes a high pitched whistling sound when danger is present.
But wait, there's more on the viscacha!
6.) A group of these critters is called a colony.
7.) Opting not to dig, a viscacha will instead use crags and natural hides in rocks to seek shelter.
Did you know…?
Seeing as they live in a very arid environment, they tend to get most of their moisture from the food they eat and thus rarely drink standing water.
8.) Females birth a single pup after up to a 130 day gestation (pregnancy).
9.) Pups are born precocial (self sufficient). Even though they can eat solid food only hours after birth, they will continue to suckle from mom for up to 8 weeks.
10.) Being rodents, they will breed a couple times a year.
Now a Short Viscacha Video!
Be sure to share & comment below! Also, check out the Critter Science YouTube channel. Videos added frequently!
Want to suggest a critter for me to write about? Let me know here.
Learn more about all kinds of cool critters, right here!