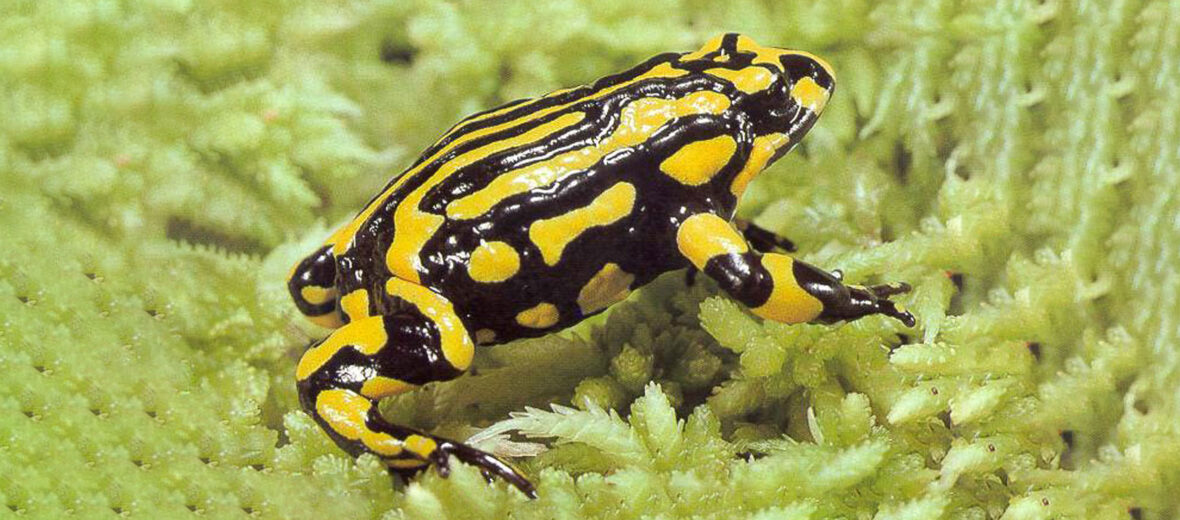 With it's brilliant black and yellow stripes, the southern corroboree frog is very well known in Australia. They live in the sub-alpine bogs of the Snowy Mountains. They are found only at altitudes above 4,200+ feet in the Kosciusko National Park! This frog, like many others, have been decimated by the deadly chytrid fungus. Read more about these critically endangered frogs.
First the Stats…
Scientific name: Pseudophryne corroboree
Weight: Up to 1 ounce
Length: Up to 1+ inches
Lifespan: Up to 9 years
Now on to the Facts!
1.) There are 2 known species: the southern corroboree (Pseudophryne corroboree) and the northern corroboree (Pseudophryne pengilleyi). Their differences include their overall color, patterns, home range and skin chemistry.
2.) These frogs breed throughout summer. Males will typically call from moist terrestrial nest chambers, typically around the edge of pools in sphagnum moss bogs.
3.) Their large .35 inch eggs wait till the autumn rainy season to hatch into tadpoles. They take between 3 – 5 years to develop into adulthood.
4.) Their diet consists of small invertebrates, especially small black ants.
5.) They are listed as Critically Endangered by the IUCN, with only an estimated 100 or fewer species remaining in the wild.
But wait, there's more on the southern corroboree frog!
6.) They prefer to walk, rather than jump or hop.
7.) Wild life conservationists are supplementing wild populations through captive breeding for reintroduction.
Did you know…?
Their skin contains lethal alkaloids that act as a defense mechanism from predators.
8.) They are considered a winter torpor amphibian (inactive during the winter).
Now a Short Southern Corroboree Frog Video!
Also, check out the Critter Science YouTube channel. Videos added frequently!
Want to suggest a critter for me to write about? Let me know here.
Learn more about all kinds of cool critters, right here!