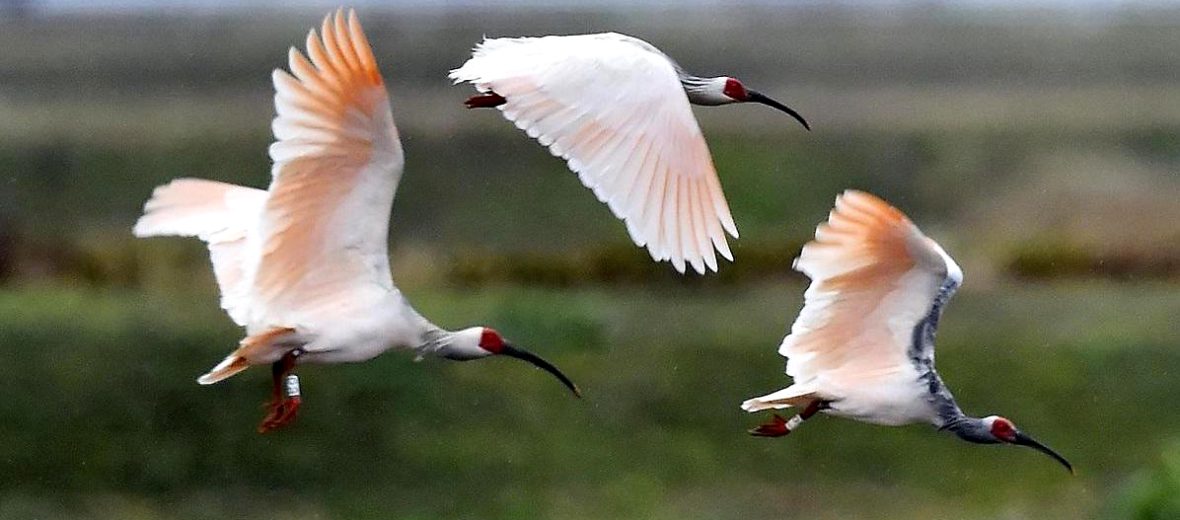 The crested ibis, aka Asian crested ibis, Toki, or Japanese crested ibis, was formerly a widespread entity in China, Japan, Korea, Russia, and Taiwan. Due to overhunting for their beautiful plumage, they are now only found in the Shaanxi province of China. There are only an estimated 330 wild individuals remaining. Even though their numbers are slowly increasing, these cool critters are threatened by hunting; trapping; habitat destruction at the hands of the logging industry as well as other ecosystem modifications; and pollution at the hands of agriculture & the logging industry. They are listed as Endangered by the IUCN.
First the Stats…
Scientific name: Nipponia nippon
Weight: Up to 2.20 lbs.
Length: Up to 31.50 inches
Wingspan: Up to 63 inches
Lifespan: Up to 26 years
Now on to the Facts!
1.) Their bill can be as long as 7.09 inches.
2.) They nest in mature forests, with an abundance of taller trees. These birds otherwise prefer river banks, wetlands, reservoirs, and agricultural land.
3.) Sans the breeding season, where these birds become aggressive, these birds can often be seen in various sized congregations.
4.) A group of these birds are called a stand, congregation, or wedge.
5.) When they feel that they or their nest are being threatened they will take up a defensive posture that includes: stretching their neck and snapping with their beak, flapping their wings, and will also display flight-based pursuit patterns.
But wait, there's more on the crested ibis!
6.) If excited, they will produce "gak-gak-gak" calls. Otherwise, they're silent.
7.) The crested ibis is diurnal (active during the day).
Did you know…?
The crested ibis is among the world's most threatened of the ibis species.
8.) Frogs, smaller fish, crustaceans, riverine snails, mollusks, and aquatic beetles are all on the menu.
9.) These birds are serially monogamous (stay together for the entire breeding season).
10.) Breeding season lasts from February – June.
But wait, there's still more on the crested ibis!
11.) Females lay up to 4 eggs that hatch in up to 28 days.
12.) Chicks are independent in up to 45 days.
13.) Back during the rein of the samurai, the feathers of the crested ibis were collected not only for the flights of the samurai's arrows, but also to make brooms for tea ceremonies.
14.) Due to the spreading of a tar-like, waxy substance being spread by these birds, during the breeding (or nuptial) season, in what is called "daubing," they will take on a grey coloration.
Now a Short Crested Ibis Video!
Be sure to share & comment below! Also, check out the Critter Science YouTube channel. Videos added regularly!
Want to suggest a critter for me to write about? Let me know here.
Photo credit: Yomiuri Shimbun