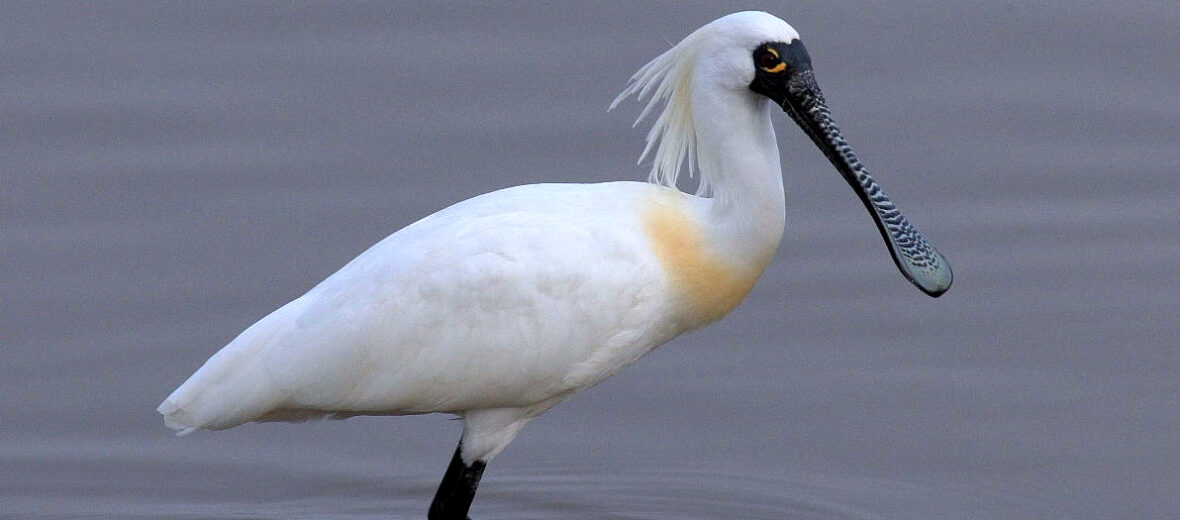 Having the smallest distribution of the 6 known spoonbill species, the black-faced spoonbill can be found in the coastal regions of southeast Asia. These large wading birds prefer food-rich bodies of water with a depth of up to 8+ inches. Their preferred habitats are wet rice fields, seashores, & shallow bodies of water like marshes, coastal estuaries, and fish ponds. The black-faced spoonbills are the only member of the spoonbill family listed by the IUCN as being Endangered, with an estimated population of only around 2,250. They face the threats of rapid habitat destruction and pollution.
First the Stats…
Scientific name: Platalea minor
Weight: Up to 2.7 lbs.
Length: Up to 30.70 inches
Wingspan: Up to 43.3 inches
Lifespan: Up to 9.5 years
Now on to the Facts!
1.) After migrating to their wintering locations, black-faced spoonbills come back with yellow breeding plumage on the back of their head to their chest.
2.) These birds are a protected species in China as part of the China Red Data Book.
3.) Their stopover location at Jiuduansha, off Shanghai, is a national nature preserve too.
4.) The black-faced spoonbill is recognized as natural monument in South Korea.
5.) Black-faced spoonbills prey on fish, shrimp, and crustaceans.
But wait, there's more on the black-faced spoonbill!
6.) Canines and hawks prey on spoonbills.
7.) Mating lasts between March – September.
Did you know…?
A group of spoonbills is called a bowl.
8.) Females lay up to 3 white, speckled eggs that hatch in up to 26 days.
9.) Incubation duties are shared by both male and female.
10.) They search for food by sticking their beak in the water and gliding their head back and forth, snatching up prey as they find it.
Now a Short Black-Faced Spoonbill Video!
Be sure to share & comment below! Also, check out the Critter Science YouTube channel. Videos added frequently!
Want to suggest a critter for me to write about? Let me know here.
Learn more about all kinds of cool critters, right here!