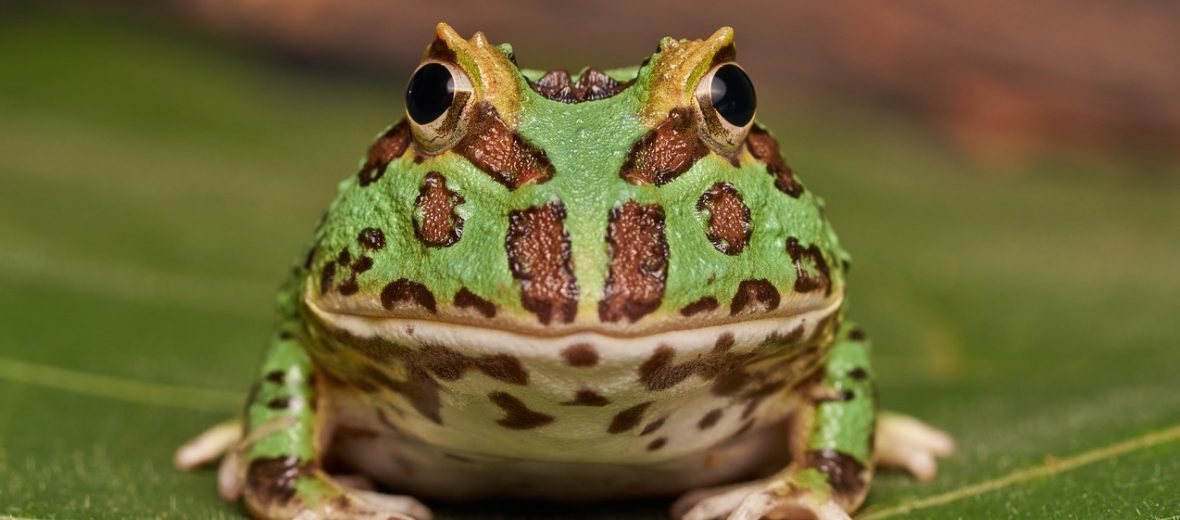 The Argentine horned frog, aka Argentine wide-mouthed frog, Argentinean horned frog, ornate horned frog, ornate horned toad, ornate Pacman frog, or Pacman frog, hails from the grasslands of Argentina, Uruguay, and Brazil. These large amphibians have a habit of eating nearly anything that happens close to their mouth. Due to the threats of residential and commercial development; agriculture; aquaculture; hunting; trapping; and pollution, these cool critters are listed as Near Threatened by the IUCN. Their populations are also decreasing, in the wild.
First the Stats…
Scientific name: Ceratophrys ornata
Weight: Up to 1 lb.
Length: Up to 4.5 inches
Lifespan: Up to 6 years
Now on to the Facts!
1.) These big mouthed frogs have a voracious appetite. They have been known to eat anything that ventures too close to their mouth. They prey on mice, rats, other amphibians, lizards, snakes, and insects.
2.) These frogs have sharp odontoid projections too. I have been bitten by them before and they'll draw blood.
3.) Their mouth equals nearly half of their total length.
4.) Like all amphibians, their skin is permeable. They absorb water and oxygen through their skin.
5.) The downer of having permeable skin is that they also absorb chemicals and possible poisons through their skin.
But wait, there's more on the Argentine horned frog!
6.) These critters are fearless and will jump towards a potential attacker, attempting to eat it.
7.) Argentine horned frogs reproduce sexually.
Did you know…?
1 of their nicknames, Pacman frog, is in honor of the video game character who is known for eating a lot, even at the risk of his own life.
8.) Females will lay an egg mass that contains up to 2,000 eggs.
9.) Eggs hatch into tadpoles in approximately 2 weeks.
10.) Tadpoles metamorphose into froglets in just 1 month.
Now a Short Argentine Horned Frog Video!
Be sure to share & comment below! Also, check out the Critter Science YouTube channel. Videos added regularly!
Want to suggest a critter for me to write about? Let me know here.