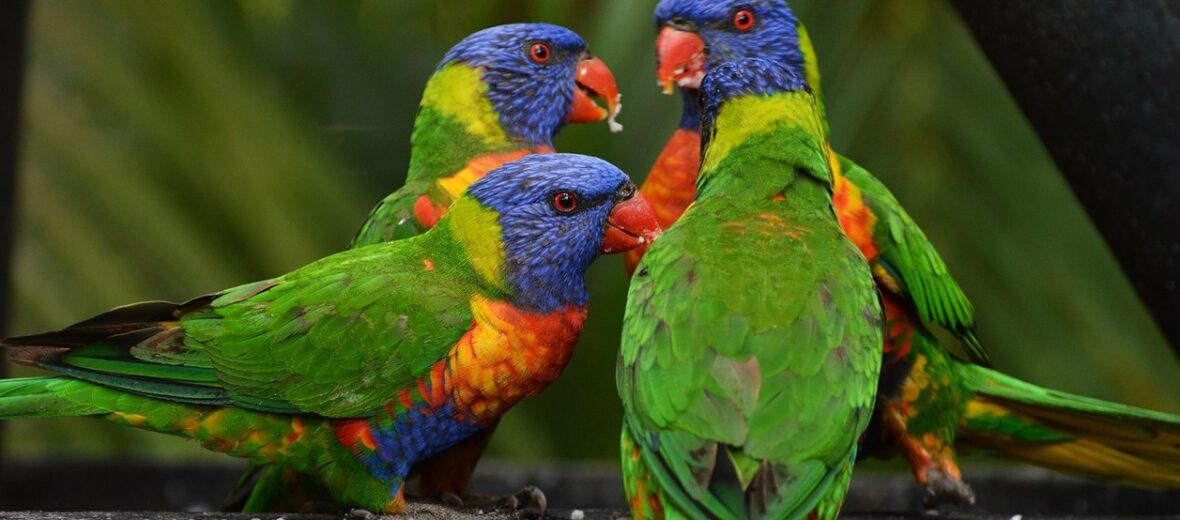 The lorikeet, aka loriini, aka lori is a small – medium-sized parrot with a special brush-tipped tongue to feed on nectar of flower blossoms & soft fruits, preferring berries. Because they are often found in big flocks they are easy to spot. They're also very easy to hear, since they are quite noisy. The lorikeet occurs in a variety of regions across northern and eastern Australia, with a local population of rainbow lorikeets in Perth, which started from aviary releases.
First the Stats…
Scientific name: Loriini
Weight: Up to 9.2 ounces
Length: Up to 12 inches
Wingspan: Up to 24 inches
Lifespan: Up to 20 years
Now on to the Facts!
1.) While they do eat certain seeds, fruits, and insects, they mostly consume nectar and pollen.
2.) Lorikeets have a special tongue that is covered with papilla (little hairs that help the birds dig out the pollen and nectar from flowers). Because of the papilla, some people have called lorikeets "brush-tongued parrots".
3.) As they collect nectar & pollen from flowers, lorikeets get some pollen on their throats and their heads. When they move on to the next flower of the same species, some of that pollen is brushed onto that new flower, where it helps the plant make its seeds. Due to this pollination, lorikeets actually help trees and flowers by carrying pollen from one plant to another.
4.) They are considered a pest by the Department of Food and Agriculture, in Perth.
5.) The lorikeet isn't picky where it makes a nest. Lorikeets have been seen nesting in palm trees, crevices of rocks, using hollowed out tree limbs, and digging holes at the base of trees.
But wait, there's more on the lorikeet!
6.) These birds are not nomadic as they tend to stay put year round.
7.) The eggs of the lorikeet are laid on chewed and decayed wood, sometimes in a hollow limb of a eucalyptus tree. Both sexes prepare the nest and feed the young, but only the female incubates the eggs.
Did you know…?
Males and females are all but identical. The male is typically a tad bit larger, but usually the only way to tell them apart is a DNA test.
8.) Their beaks are also very unique among parrots. The upper mandible has a long, pointed tip and much narrower structure than other parrots. This serves to easily extract hard-to-get seeds from cones and other vegetation. The birds will scrape the fruit on the inside of their bill and remove the juices with their specialized tongues.
9.) About 70% of their day is spent feeding. Lorikeets can, however, travel more than 30 miles a day to find food! Some lorikeets can feed on as many as 650 flowers in a day.
10.) At night, lories retreat along their food gathering paths back to their communal roosts. These roosts can house as many as several thousand birds!
Now a Short Lorikeet Video!
Also, check out the Critter Science YouTube channel. Videos added frequently!
Want to suggest a critter for me to write about? Let me know here.
Learn more about all kinds of cool critters, right here!