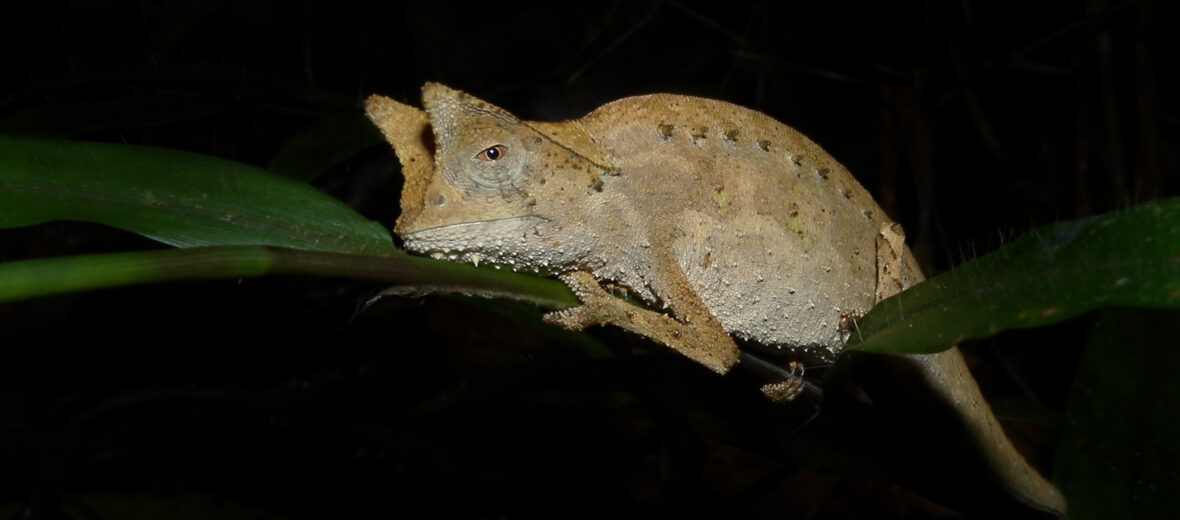 The leaf chameleon, aka stump-tailed chameleon or pygmy chameleon, can be found (if you look hard enough) in the rainforests of eastern Madagascar. They can also be found on the island of Nosy Boraha. These tiny critters can be found from sea level to altitudes of up to 4,100 feet. While they are tiny, the smallest chameleon is actually the Brookesia nana. They measure about half an inch long! The leaf chameleon is currently listed as Least Concern by the IUCN. However, their numbers are decreasing. Their main threats are accelerated habitat loss at the hands of logging and are suffering from the effects of climate change and collection for the pet trade. Even though these tiny critters are often collected for pets, it is best if you leaf them alone. They are fragile and hard to care for successfully.
First the Stats…
Scientific name: Brookesia superciliaris
Weight: Up to .3 ounce
Length: Up to 1+ inch
Lifespan: Up to 4 years
Now on to the Facts!
1.) These chameleons rely on their incredible camouflage as a defense. If that doesn't work, they will tuck in their legs and roll over to 1 side and remain motionless; resembling a dead leaf.
2.) Like all chameleons, the leaf chameleon is an insectivore. They prey on small invertebrates.
3.) The leaf chameleon also has the telltale fast acting, sticky tongue that they project at their prey items, with lightning speed.
4.) Their eyes are capable of rotating 360°. They can also focus on 2 objects at the same time.
5.) Like other chameleons, their eyesight is better when both eyes focus on 1 object at a time.
But wait, there's more on the leaf chameleon!
6.) During their courtship ritual, the male will perform various nodding and rocking movements to attract a mate. If the female isn't interested, she will follow with her own nodding and rocking movements. If the is receptive, she will walk with the male for a while.
7.) After courtship is successful, the female will allow the male to mount her by climbing onto her back. She will then carry the male on her back until copulation ends.
Did you know…?
These are among the smallest reptiles in the world. They are able to sit on top of a wooden match.
8.) Females are oviparous and lay 2 large (well, large for them) eggs.
9.) These chams are only able to transform into various shades of browns.
10.) These chameleons have changed very little in over 50 million years.
Now a Short Leaf Chameleon Video!
Be sure to share & comment below! Also, check out the Critter Science YouTube channel. Videos added frequently!
Want to suggest a critter for me to write about? Let me know here.
Learn more about all kinds of cool critters, right here!