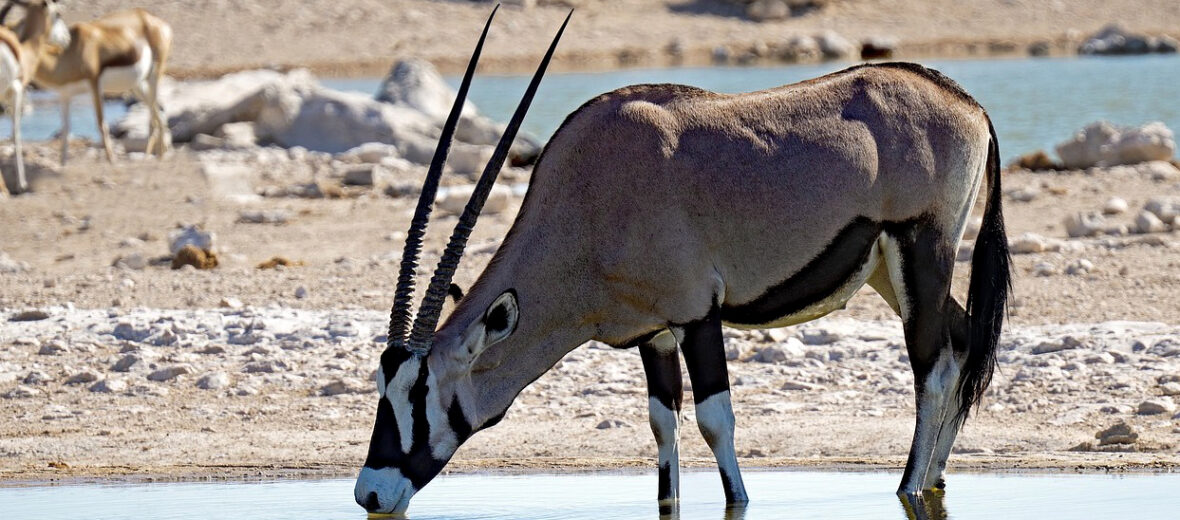 There are 5 species of oryx living in Africa and also the middle east. They're a large antelope species with long, spear-like horns. The Gemsbok is the largest of the oryx species. They live in dry, arid or semiarid areas such as deserts, savannas, and steppes. Only 2 species are listed as Least Concern. The others are listed as Vulnerable, Endangered, and Extinct from the Wild.
First the Stats…
Scientific name: Oryx
Weight: Up to 530 lbs.
Height: Up to 50 inches, at the shoulder
Lifespan: Up to 22 years
Now on to the Facts!
1.) Oryx are territorial creatures that use their horns to establish dominance in the herd. The dominant male uses dung to mark their territory.
2.) During the rainy season, they can be found in herds of over 300 individuals. During the dry season they live in smaller herds of approximately 30.
3.) They have a unique ability of raising their body temperature to prevent perspiration and loss of bodily fluids during the day.
4.) These critters also utilize a network of capillaries in their nose to cool down the blood flow to the brain. This cooling of the blood prevents over-heating.
5.) With their excellent sense of smell, they can detect rainfall up to 50 miles away!
But wait, there's more on the oryx!
6.) When faced with predators, they will position themselves sideways in a sort of wagon train formation to appear larger. If this fails to do the trick, they have very formidable horns they can use to gore their attacker(s).
7.) Lions, wild dogs, and hyenas are their primary predators.
Did you know…?
The oryx can run up to 37 mph!
8.) Gestation (pregnancy) lasts 8.5 months. The calf can run as soon as it is born, however it will stay hidden in the tall grass for the first couple of weeks.
9.) They are herbivorous (eat plant matter).
10.) Some oryx numbers exceed 373,000!
Now a Short Oryx Video!
Also, check out the Critter Science YouTube channel. Videos added frequently!
Want to suggest a critter for me to write about? Let me know here.
Learn more about all kinds of cool critters, right here!