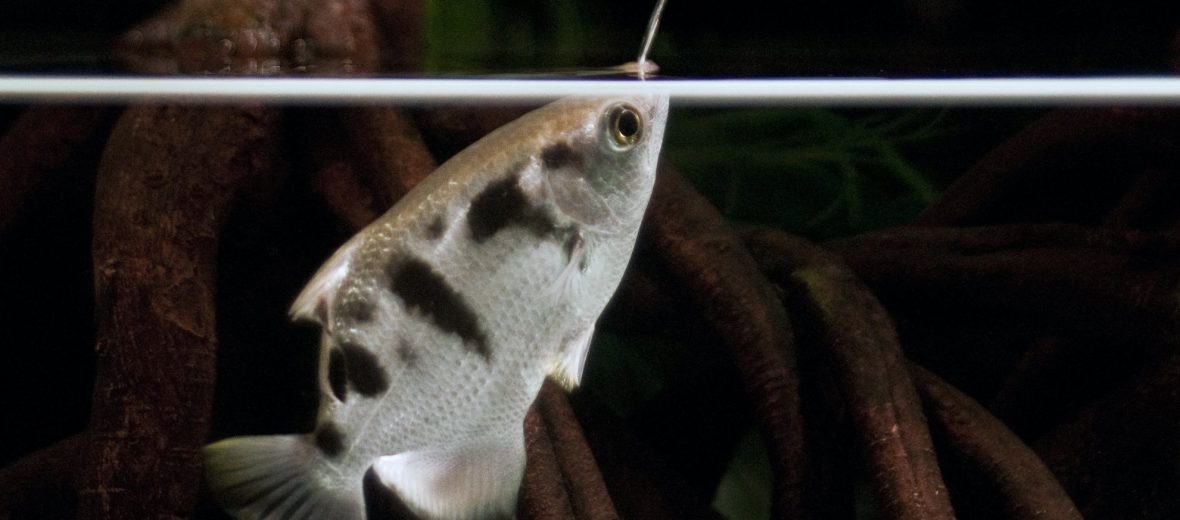 The banded archerfish, aka, archer fish, banded archer fish, or spinner fish, can be found in freshwater and brackish water lakes and river habitats in eastern Africa, south and southeastern Asia, on down to Australia. They tend to migrate back and forth from fresh to saltwater. But they don't move from fresh to salt for breeding, like some other diadromous fish do. Due to stable numbers and their (albeit reluctant) ability to breed in captivity, these fish are listed as Least Concern by the IUCN.
First the Stats…
Scientific name: Toxotes jaculatrix
Weight: Up to 8+ ounces
Length: Up to 12 inches
Lifespan: Up to 10+ years
Now on to the Facts!
1.) These cool critters lay in wait, just under the water's surface for insects or spiders to station themselves on a leaf or branch, just above the water. Once a prey item is located, these fish will shoot a jet of water at their food to be, knocking it into the water, where it is snatched up.
2.) If they miss their mark, these fish will also leap from the water and knock their prey into the watery abyss, to be engulfed.
3.) They can shoot up to 7 streams with 1 mouthful of water.
4.) Archers have the ability to shoot a stream of water up to 5 feet!
5.) Equipped with forward-facing, binocular vision these fish have better eyesight than most other fish.
But wait, there's more on the banded archerfish!
6.) Their genus name, Toxotes, is Greek for "archer." While their species name, jaculatrix, is Latin for "female javelin thrower."
7.) There are only around 7 known species of archerfish known to science.
Did you know…?
In World War II, the U.S. submarine USS Archerfish was named after these cool critters.
8.) Being agile swimmers, they can dart from the surface of the water to greater depths, in order to avoid a predator.
9.) Archerfish are a schooling fish species that can be found in small to medium sized schools.
10.) Females can spawn up to 3,000 eggs at once.
But wait, there's still more on the banded archerfish!
11.) The spawned eggs are fertilized by the male and float at the surface of the water.
12.) Eggs hatch in up to just 12 hours!
13.) The fry are hatched precocial (totally self sufficient).
14.) Almost as soon as they are hatched, the fry are able to shoot streams of water from their mouths, up to 7 inches!
15.) These are a fan favorite of advanced fish keepers. But they can be challenging to keep and don't always breed well in captivity. Although it is possible to breed them.
Now a Short Banded Archerfish Video!
Pick up your Critter Science books today, at Amazon!
Be sure to share & comment below! Also, check out the Critter Science YouTube channel. Videos added regularly!
Want to suggest a critter for me to write about? Let me know here.