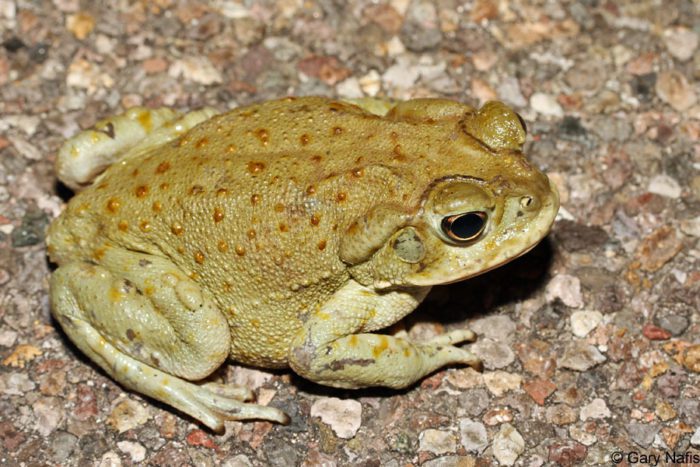 Since it's the monsoon season here in Arizona, I thought I should post an article about the Sonoran desert toad. These amphibians are quite the survivors. They also pack a defensive punch that will make you wish you hadn't messed with it… especially if you're a pet. Read on to learn more…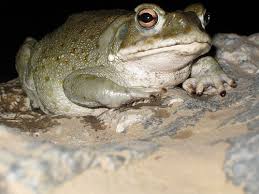 The Colorado River toad (Incilius alvarius), also known as the Sonoran Desert toad, is found in northern Mexico and the southwestern United States. Its toxin, as an exudate of glands within the skin, contains 5-MeO-DMT and bufotenin.
Description
The Colorado River toad can grow to about 190 millimeters (7.5 in) long and is the largest toad in the United States apart from the non-native cane toad (Rhinella marina). It has a smooth, leathery skin and is olive green or mottled brown in color. Just behind the large golden eye with horizontal pupil is a bulging kidney-shaped parotoid gland. Below this is a large circular pale green area which is the tympanum or ear drum. By the corner of the mouth there is a white wart and there are white glands on the legs. All these glands produce toxic secretions.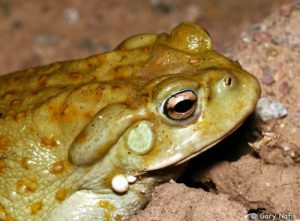 Defense
The toad's primary defense system are glands that produce a poison that may be potent enough to kill a grown dog. These parotoid glands also produce the 5-MeO-DMT and bufotenin for which the toad is known; both of these chemicals belong to the family of hallucinogenic tryptamines. 5-MeO-DMT may be smoked and is powerfully psychoactive. After inhalation, the user usually experiences a warm sensation, euphoria, and strong visual and auditory hallucinations. No long-lasting effects have been reported.
Dogs that have attacked toads have been paralyzed or even killed. Dogs will typically experience foaming at the mouth, seizures, confusion, vomiting, and sometimes even death. Raccoons have learned to pull a toad away from a pond by the back leg, turn it on its back and start feeding on its belly, a strategy that keeps the raccoon well away from the poison glands. Unlike other vertebrates, this amphibian obtains water mostly by osmotic absorption across its abdomen. Toads in the family bufonidae have a region of skin known as "the seat patch", which extends from mid abdomen to the hind legs and is specialized for rapid rehydration. Most of the rehydration is done through absorption of water from small pools or wet objects.
The Colorado River toad is found in the lower Colorado River and the Gila River catchment areas, in southeastern California, New Mexico, Mexico and much of southern Arizona. It lives in both desert and semi-arid areas throughout its range. It is semiaquatic and is often found in streams, near springs, in canals and drainage ditches, under water troughs, and even in backyards–especially in yards that back up to a field or a drainage ditch.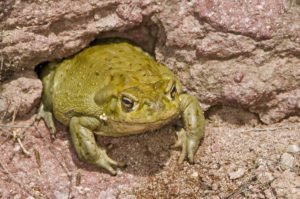 Most Sonoran Desert toads are found at night during the monsoon season, but they may emerge a month or more before the summer rains begin, particularly in areas of permanent water. Outside of the summer activity period, Sonoran Desert toads remain in rodent burrows or other underground retreats.
Sonoran Desert toads eat just about anything that moves and will fit into their mouths, including insects, centipedes, spiders, lizards, mice, and other amphibians.