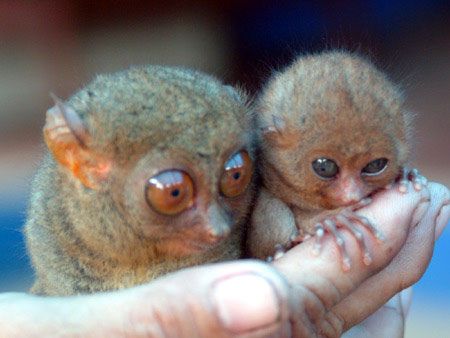 Keeping with the diminutive theme, I give you the pygmy tarsier. The pygmy tarsier (Tarsius pumilus), also known as the mountain tarsier or the lesser spectral tarsier, is a nocturnal primate found in central Sulawesi, Indonesia, in an area with lower vegetative species diversity than the lowland tropical forests.
Status
The pygmy tarsier was believed to have become extinct in the early 20th century. Then, in 2000, Indonesian scientists accidentally killed one while trapping rats. The first pygmy tarsiers seen alive since the 1920s were found by a research team led by Dr. Sharon Gursky and Ph.D. student Nanda Grow from Texas A&M University on Mount Rore Katimbo in Lore Lindu National Park in August 2008.
Tarsier Stats:
Kingdom: Animalia
Phylum: Chordata
Subphylum: Vertebrata
Class: Mammalia
Order: Primates
Family: Tarsiidae
Genus: Tarsius
SPECIES: Tarsius pumilus
Some fun facts about the tarsier…
1.) Pygmy tarsiers drink by lapping water.
2.) Pygmy tarsiers are able to leap several meters when going from tree to tree, with froglike leaps. On a level surface, pygmy tarsiers can leap as far as 1.2 to 1.7 and as much as 0.6 m high.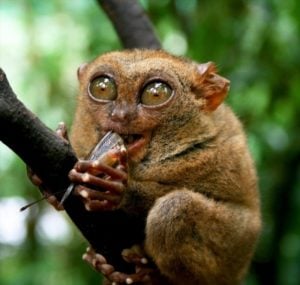 3.) When hunting, a Pygmy tarsier waits silently for prey to come its way, instead of moving around.
4.)The tarsier's name is due to its tarsals — its powerful ankle bones.
5.) If a predator attacks one of their number, all nearby tarsiers come together to fight the predator.
6.) Tarsiers have a short muzzle and appear to have no neck, though they are able to turn their head around as far as 180 degrees.
7.) Having a high-pitched voice (up to 91 kHz), tarsiers often sing. Sometimes a male and a female will perform a duet together.
8.) A tarsier's eyes are the most interesting part of them. Their eyeballs do not rotate. Their ears are interesting too: they can level them out and roll them up and unfold them again.
9.) Tarsiers are unable to walk on the ground and are only able to hop.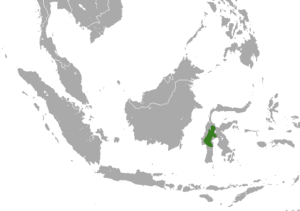 10.) Pygmy tarsiers come from Central Sulawesi, Indonesia. They inhabit montane cloud forests in the central Sulawesi Mountains at altitudes from 1800 to 2200 m. They often inhabit the lower canopy among trunks of saplings, and the forest floor.
11.) The Pygmy tarsier is Indonesia's smallest primate species.
12.) Tarsiers can live 12-20 years.
13.) Top speed 40km/h (24mph). Weight 57G (2 ounces). Length 95-105mm (3.3/4″ – 4″)
14.) Each one of a tarsier's eyes are as big as it's brain.
15.) Tarsiers are the only completely carnivorous primate.
Some source information courtesy of: Wikipedia