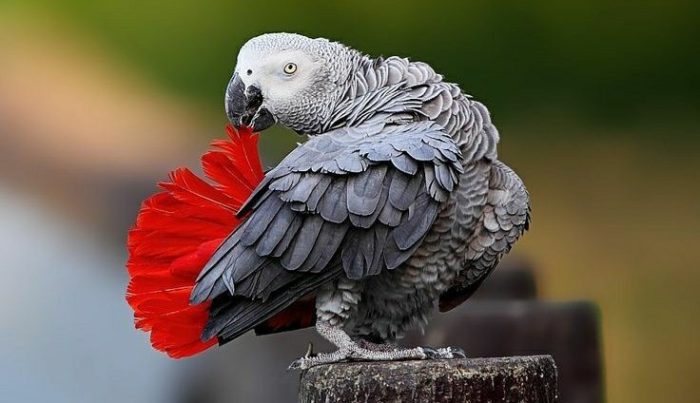 One of the most intelligent birds in the animal kingdom is the African Grey parrot. They are world renown for their ability to problem solve and speak. In my travels I have met a few Greys and have never been let down by how smart these critters are. If you've ever seen an African Grey parrot, then you know that they are beautiful birds, but did you also know that they are capable of amassing vocabularies of up to 1,000 words or more, and using the words that they learn to speak in context?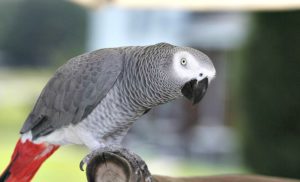 First the Stats…
Other Name(s): Congo African grey parrot
Scientific name: Psittacus erithacus
Type of Animal: Bird, member of the order Psittaciformes (parrots)
Animal Family: Psittacidae (subfamily Psittacinae)
Where Found: Equatorial Africa
Length: 33 cm (13 in.)
Wingspan: Up to 52 cm (20.5 in.)
Weight: Up to 490g (17.28 oz.)
Conservation Status: Endangered
Other interesting African Grey Parrot facts:
The African Grey is closely related to the Timneh Parrot (Psittacus timneh). The two species were, until recently, both considered to be subspecies of African Grey Parrot.
Even though African Grey parrots look similar, there are actually two distinct types and a couple of lesser-known​ subspecies of this beloved bird. The most popular and common is the Congo African Grey. The Congo African Grey is the largest of the African Grey parrots, sporting a lighter gray color in its plumage, and a solid black beak. The second most common type is the Timneh African Grey, which was recognized as a species in and of itself in 2012. The Timneh African Grey is slightly smaller than the Congo, and its feathers are darker in color. Another defining characteristic of the Timneh Grey is that it has a horn-colored upper mandible instead of a black one.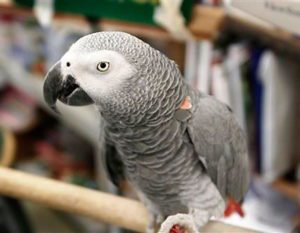 As pets…
If you're interested in owning one, be advised: African Grey parrots have been known to live for up to 80 years in captivity, so it's imperative that those who adopt them can commit to a lifetime of living with a bird. African Grey parrots need plenty of mental stimulation in order to stay happy and healthy, so they have to be provided with a variety of toys and other ways to exercise their minds. Otherwise, they can end up with destructive behaviors and develop unpleasant habits like biting and even self harm. Basically, do your research and do it well before taking in a Grey.
Ecology and Conservation
The parrot plays an important role in its habitat by helping to propagate the forest. Because not all of the seeds consumed are digested, many are passed in the bird's guano over new areas of the forest. Some species eat nectar and are important in the pollination of many species of plants in the tropical forests.
Irene Pepperberg's work with Alex has sparked new studies suggesting parrot intelligence parallels that of chimpanzees and dolphins unlike many other bird species. Currently, The Alex Foundation is conducting research in various regions of Africa to fully comprehend the abilities, adaptations, and pressures facing African grays in the wild.
Unfortunately, the African gray parrot has become popular in the pet trade due to their attractive colors and unbelievable talent to mimic sounds and words. Due to such a large demand, baby grays are being stolen from the wild to supply the demand.
The U.S. Wild Bird Act forbids the commercial import of any bird listed by CITES which includes most parrots – endangered or threatened.
Diet
African grey parrots feed on a diet of seeds, nuts, fruits and berries. They are vegetarians and feed exclusively on fruits and grain. These parrots are very fond of the oil palm nut. As commercial grain crops such as maize have been planted in Africa the grey parrots have been known to do damage to these crops.
Habitat
The African grey parrot inhabits lowland tropical rainforests. They hail from Africa and inhabit countries including Cote d' Iviore, Ghana, Kenya, the Democratic Republic of the Congo, Nigeria, Rwanda, Togo, Uganda, Angola, Principe, equatorial Guniea, Togo and Burundi. These birds have also been known to inhabit mangrove and gallery forests as well as savannah woodland. With the increase in commercial farming they have been known to move into cultivated areas.
Reproduction
African grey parrots have variable breeding seasons which differ across their range. They nest in a small tree hollow 10-30m (30-90ft) off the ground.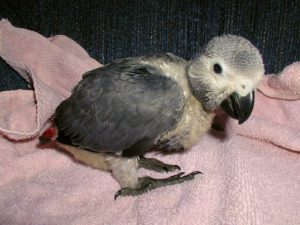 Nesting is usually done in solitary but may occur in a small group. They generally lay 2-3 eggs. These are incubated for 21-30 days. Young fledge 80 days after hatching.
Check out this video of a very famous Grey, Einstein…